Nintendo reveals online Wii U network Miiverse
Integral to everything.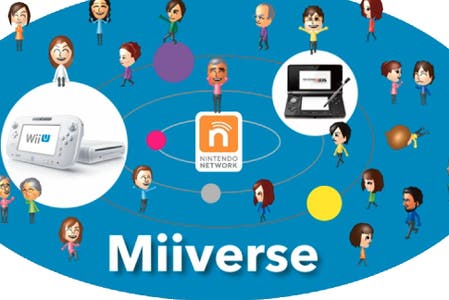 The first thing you'll see when you turn on a Wii U is Miiverse, Nintendo has revealed.
It's an online social network that's an integral part of Wii U. Accessing it doesn't disrupt gameplay, and all Wii U games will be compatible with it.
Miiverse looks like a scattered menu with varying amounts of Miis surrounding the menu options. They are your friends, and the menu options they surround shows you, at a glance, what they're up to. You'll also see the Miis of people in your country playing games.
Miiverse lets you communicate with friends either by touch-screen typing on an on-screen keyboard, or by drawing little willies, I mean pictures/messages. You can even take screenshots from games and share them on a kind of Facebook Wall area.
"Even with no-one else in the room, you won't feel alone."

Satoru Iwata, president, Nintendo
Nintendo's Satoru Iwata, who presented the video demonstration, accepted that these ideas aren't new. But it's how Nintendo has combined them that will be the difference. Reading messages on a screen in your hands and replying quickly via a touch-screen is preferable to deciphering text far from your eye, for example.
Miiverse will eventually be available on 3DS, mobile devices and via the web as well.
"Even with no-one else in the room, you won't feel alone," Iwata pledged, presumably not trying to scare us.
"Six years ago, Wii introduced a new form of together. If there's a way to describe Wii U in a similar way it's this: together, better."
This pre-E3 conference video focused on the Wii U hardware. The conference will detail the games, Iwata said.