Leaked Days Gone gameplay doesn't reveal much, but does give us a good idea of what to expect
Biker ran.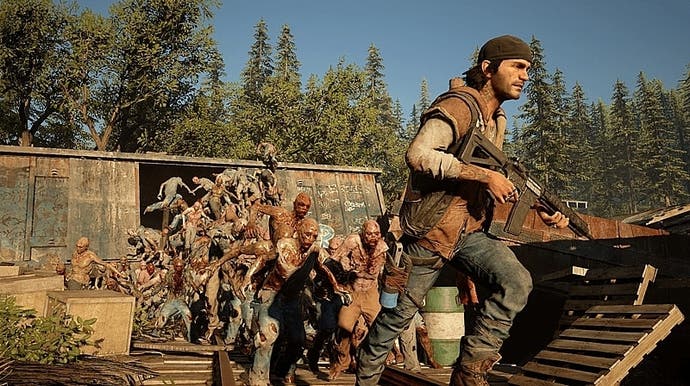 15 minutes of PlayStation 4-exclusive Days Gone gameplay has hit the internet.
THERE MAY BE SPOILERS AHEAD.
The leak is based on a longer video that was previously removed from the Days Gone subreddit.
This shorter video was then uploaded to reddit - where it remains, for now.
The video shows protagonist Deacon skulking about the post-apocalyptic open world, driving around on his motorbike through forest areas, occasionally stopping to farm materials for crafting and repairs.
There's an emphasis on stealth here, which makes sense given a huge number of zombies end up chasing you through the trees if you catch their attention. Later in the video, the player runs away from a train of zombies that simply won't give up. I found it quite funny.
Before that, though, there are wolves to contend with. These wolves are pretty tough - they take a few bullets to kill at least. You can carve up their corpses for materials.
There's a good deal of dialogue that plays as you move about the world, too. Days Gone, from Sony Bend, is a story-based game, so expect a narrative adventure spliced into your open world survival.
My take on the admittedly low quality footage: there's a decent level of detail on offer here, but the animations and character movement looks a tad janky. I'm not a fan of the way the player character's leg clips through part of the bike when he gets on and off, either.
There's a predictable grittiness to the whole thing, but I'm up for giving any game set in the Pacific Northwest.
And there are of course an impressive number of zombies on-screen to contend with. These aren't slow-moving zombies, either. I imagine things will get pretty tense knowing one wrong move can bring down a shower of undead on you.
Days Gone comes out 26th April. While you wait, why not have a gander at the gameplay from our Ian, below?