Jelly Deals: $400 worth of games and stuff available from Humble for $15
E3 Digital Ticket bundle live now.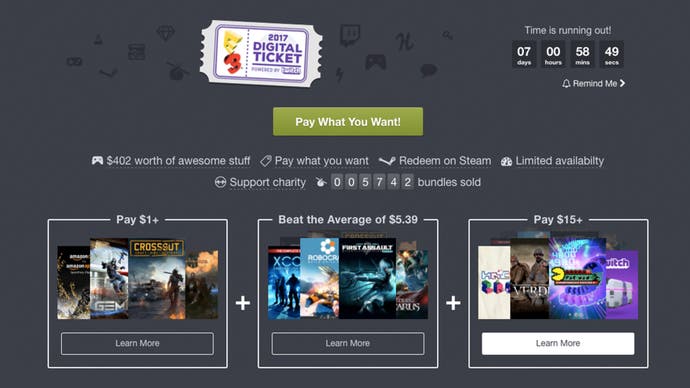 A note from the editor: Jelly Deals is a deals site launched by our parent company, Gamer Network, with a mission to find the best bargains out there. Look out for the Jelly Deals roundup of reduced-price games and kit every Saturday on Eurogamer.
---
Just in time to kick off this year's E3 festivities in style, Humble has gone ahead and put together an extra special bundle to benefit the ESA Foundation (that's the Entertainment Software Association's charity, for the uninitiated). The folks at Humble are calling this one the 'E3 Digital Ticket' and 25 companies are chipping in to get involved, from Amazon and Twitch to THQNordic and Sega.
What this bundle looks like for you, dear readers, is the ability to get over 20 games and downloadable content packs for up to $15 (around £11.76) today. By spending at least $1, you'll also get 10% off a Humble Monthly subscription as well as a stack of coupons to spend in the Humble Store itself.
Here's the full list of what's on offer:
Pay $1 or more
500 Amazon Coins
Gemini: Heroes Reborn
Crossout - Thug Starter Pack
SpellForce 3 Beta Access
Battle Islands Commanders (E3 exclusive crate)
Gems of War - Demon Hunter Bundle
HAWKEN - Prosk Starter Bundle
MXM Poharan Pack
Blade and Soul Shadow Guard Bundle
Tyranny Portrait Pack
Gotham City Impostors Free to Play: Professional Impostor Kit
Rock of Ages 2 - Classic Pack
Pay more than the average
XCOM: Enemy Unknown Complete Edition
Robocraft Eagle Pack
Ghost in the Shell: Stand Alone Complex First ASsault Online - First Connection Crate
Riders of Icarus E3 Heroic Ranger's Fury Pack
Neverwinter Gilded White Steed
Dreadnought Fleet Recruitment Pack
Paragon Gunslinger Pack
Pay $15 (£11.76) or more
HackyZack
Verdun
Pac-Man Championship Edition 2
Two Twitch Crates
Duke Nukem's Bulletstorm Tour DLC for Bulletstorm: Full Clip Edition
Total War: Warhammer Grim and the Grave DLC
Subscribe to Humble Newsletter (free) to receive
Tower 57 Exclusive Beta Demo
Silence Demo + 50% OFF Humble Store Coupon
Styx: Shards of Darkness 40% OFF Humble Store Coupon
Tyranny Commander 50% OFF Humble Store Coupon
Tyranny Archon 60% OFF Humble Store Coupon
Tyranny Overlord 60% OFF Humble Store Coupon
That's just over $400 worth of games and stuff, available from right now for the next week. Grab it while you can.
Pay what you want for the E3 Digital Ticket from Humble Bundle
If you're looking to pick up something more console related, you may want to check out this week's Jelly Deals roundup, which featured a whole host of PS4 console discounts, among other things. We'll be keeping up to date with all the Project Scorpio details right here on Eurogamer, too, so stay tuned for that later today.