Japan chart: 3DS races out of the blocks in 2012
While Vita sales hold steady.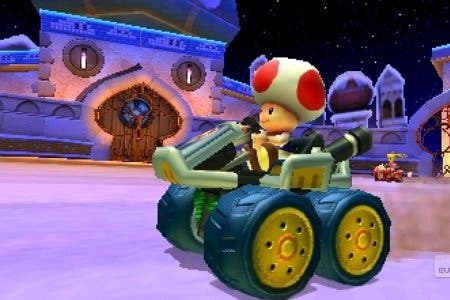 The 3DS has started 2012 with a bang, seeing a significant hardware sales bump and a raft of software in the top five.
Nintendo's handheld was, yet again, the best-selling console of the week, moving a very healthy 240,819 units. That's up from 197,952 last week.
Its nearest competitor was the PlayStation 3, which sold 74,459.
The PSP followed in third, then Wii, with the Vita in fifth. Not great news for Sony perhaps, but at least sales of its new portable held firm at 42,915 - a small increase on the 42,648 it managed the week before.
Here's the full hardware chart, courtesy of Andriasang:
3DS: 240,819 (Last week: 197,952)
PlayStation 3: 74,459 (67,199)
PSP: 71,033 (62,746)
Wii: 49,525 (33,208)
PlayStation Vita: 42,915 (42,648)
DSi XL: 3971 (3356)
Xbox 360: 2738 (2453)
DSi: 3565 (2418)
PlayStation 2: 1323 (1659)
There were no major new entries on the software chart. Mario Kart 7 retained the number one spot, followed by three other 3DS titles - Super Mario 3D Land, Monster Hunter Tri G and footie RPG Inazuma Eleven Go.
Sales of Monster Hunter Tri G finally made it into seven figures, making it the system's third million seller in Japan.
There was more good news for Nintendo further down the chart with launch title Nintendogs + Cats climbing 10 places to 13.
16 out of the top 20 games were for Nintendo platforms.
The full chart panned out as follows:
Mario Kart 7 (Nintendo, 3DS): 157,188 (Life to date: 1,317,357)
Super Mario 3D Land (Nintendo, 3DS): 119,093 (1,199,285)
Monster Hunter Tri G (Cacpom, 3DS): 98,355 (1,083,853)
Inazuma Eleven Go (Level-5, 3DS): 56,134 (325,358)
Musou Orochi 2 (Tecmo Koei, PS3): 42,464 (316,516)
Just Dance Wii (Nintendo, Wii): 37,266 (490,677)
Final Fantasy XIII-2 (Square Enix, PS3): 35,325 (739,561)
Wii Party (Nintendo, Wii): 33,174 (2,256,803)
Kirby's Adventure (Nintendo, Wii): 33,040 (570,168)
Wii Sports Resort Wiimote Plus Pack (Nintendo, Wii): 30,783 (833,757)
Go Vacation (Namco Bandai, Wii): 26,852 (208,017)
Mario Kart Wii (Nintendo, Wii): 26,346 (3,474,659)
Nintendogs + Cats (Nintendo, 3DS): 24,514 (467,914)
Inazuma Eleven Strikers 2012 Extreme (Level-5, Wii): 23,521 (127,410)
Taiko Drum Master Wii Ultimate Version (Namco Bandai, Wii): 23,422 (197,003)
Magician's Quest: The Merchant's Store of Sorcery (Konami, DS): 19,574 (165,962)
One Piece Gigant Battle! 2 New World (Namco Bandai, DS): 18,789 (290,002)
Monster Hunter Portable 3rd PSP the Best (Capcom, PSP): 18,293 (154,438)
Beat the Beat: Rhythm Paradise (Nintendo, Wii): 15,903 (670,305)
Pro Evo Soccer 2012 (Konami, PSP): 15,689 (173,093)