Iwata: 3DS has "regained its vigour"
Mario Kart 7 sales double DS version in Japan.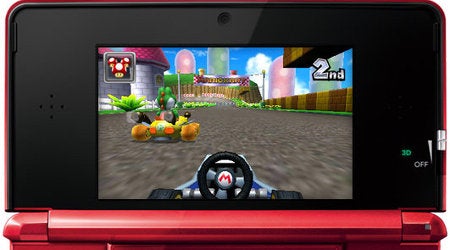 The 3DS has "regained its vigour" following a sluggish launch, according to Nintendo CEO Satoru Iwata.
Speaking in an interview with Japanese news outlet Nikkei, as translated by Andriasang, Iwata revealed that the system is about to pass the three million sales mark in Japan, two weeks earlier than the DS managed.
He added that Nintendo expects the system to pass the four million mark before its first anniversary this February.
The one-two Super Mario 3D Land/Mario Kart 7 punch seems to be doing the job, along with August's drastic price cut. Iwata revealed that Mario Kart 7 sold around 420,000 units in Japan in its first week on sale. That's nearly double the DS version which has gone on to sell over 20 million units worldwide.
As for the picture abroad, Iwata noted that the two Mario titles are off to a better start internationally than they are in Japan, though didn't offer exact figures.
As previously reported, Nintendo still expects to post a loss for the current fiscal year, however, Iwata said he expected normal service to resume in the next fiscal term, with the company returning to profit.