It really does look like Rockstar animated horse testicles for Red Dead Redemption 2
And eight other things we noticed from the trailer.
Right, we've all been thinking it. It's a bit nuts that Rockstar went to the trouble of animating the sway of that horse's testicles in yesterday's trailer for Red Dead Redemption 2, right?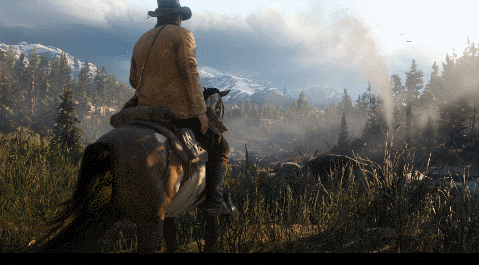 I'm not saying that's the only thing of note. We've done a whole video in fact, which you can find below, detailing some of the more interesting bits and pieces we've spotted.
But it is difficult to concentrate on Arthur Morgan dual-wielding a pair of revolvers, for example, when that horse is dual-wielding his bojangles in front of everyone within the first 10 seconds.
Anyway, I don't want people saying we're not taking Red Dead Redemption 2 seriously enough here. If anything, Kotaku's Patricia Hernandez is to blame for pointing this out in the first place.
Red Dead Redemption 2 will be released in spring 2018 on the PlayStation 4 and Xbox One.