It looks like Insomniac's Sunset Overdrive is heading to PC
UPDATE: Out tomorrow.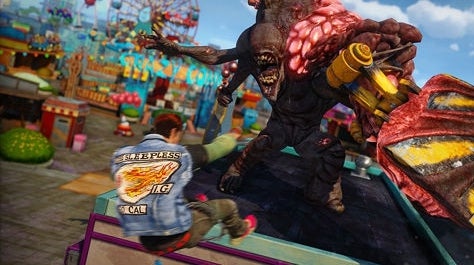 UPDATE 15/11/18: After months of leaks from the various video game ratings boards of the world, it's now official: Insomniac's wonderfully ridiculous open-world shooter Sunset Overdrive is coming to PC, and it'll launch tomorrow, November 16th.
To celebrate the announcement, Insomniac has released a crisp PC launch trailer, which you can admire in all its preposterous, post-apocalyptic glory below.
Notably, the developer has so far only confirmed Sunset Overdrive for release on "Windows 10 PC", and thus presumably the ever-unpopular Microsoft Store, but a recently discovered Steam database listing suggests it could be heading to Valve's storefront too.
If you're wondering what form Sunset Overdrive will take on PC, a now-removed Amazon listing previously claimed it would include all DLC seen on Xbox One - but we should receive firmer, final details when Insomniac's Ted Price appears on tomorrow's episode of This Week on Xbox.
---
ORIGINAL STORY 1/11/18: Spider-Man developer Insomniac Games' eye-searing (and extremely daft) open-world adventure Sunset Overdrive is almost certainly heading to PC, going by a new listing that's appeared on the ESRB ratings board website in the US.
Sunset Overdrive originally launched in 2014 as an Xbox One exclusive, and saw Insomniac trying its hand at creating an open-world city adventure of its very own - well before it tackled Manhattan in this year's Spider-Man PS4 outing. Sunset Overdrive is a far from being a traditional open-world outing though; it's a ludicrous experience, positively heaving with daft jokes, ridiculous creatures and weaponry, and relentlessly over-the-top spectacle.
It helps, too, that its metropolis of Sunset City - besieged, as it is, by deranged humans-turned-monsters following a terrible mishap involving the local fizzy drinks company - is a gleefully designed playground, full of riotous colour and thrilling architectural jumble. It's perfectly realised for a game that's a little bit parkour-platformer, a little bit shooter, and it fosters a wonderful sense of fluidity thanks to its tangle of zip-lines and grind rails.
All of which is to say that a PC release would be extremely welcome - and seemingly inevitable. Sunset Overdrive PC has now appeared on two separate ratings board listings - first in Korea, and most recently on the ESRB's website. Regrettably, neither outlet has hinted at a possible release date, but it very much seems that we're now talking 'when' rather than 'if'.
Eurogamer's Christian Donlan is a big fan of Sunset Overdrive (if not its occasional dips into 'how do you do fellow kids?' territory), and handled reviewing duties back in 2014. "If you wanted to be uncharitable, you could voice the suspicion that a great many baseball caps were turned backwards in the echoing board room where this project was greenlit," he said, "but with the campaign done and the city freshly filled with challenges, I don't really feel like being uncharitable. Beneath the glorious tech, and once the writing relaxes a little, Sunset Overdrive's wonderfully lurid and heartfelt - a bit like playing an old 4AD album sleeve."