Imminent Xbox One Conan Exiles has to put underpants on in America
Europe will get full package.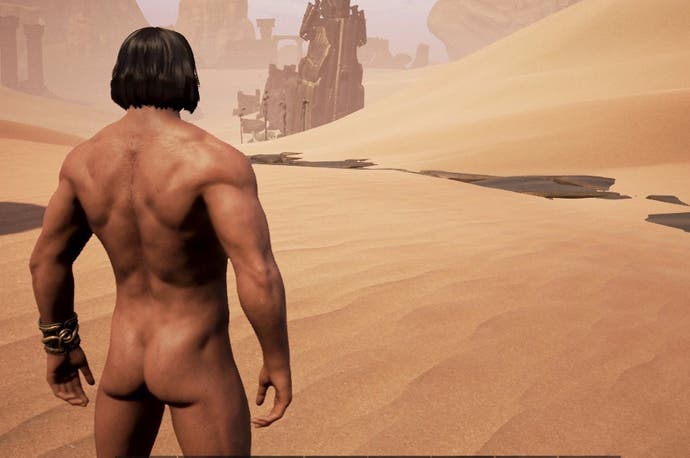 Multiplayer barbarian survival game Conan Exiles launches on the Xbox One Game Preview programme this week, on Wednesday 16th August. But because of regional age-rating organisations, the game won't be quite the same in America as in Europe.
In America, the ESRB has rated Conan Exiles M for Mature; in Europe, PEGI has rated Conan Exiles for ages 18 and over. But in America there will only be partial nudity allowed whereas in Europe there will be the full monty. And in Conan Exiles speak, full monty means willies.
Conan Exiles rose quickly to fame on PC for showing full male nudity in all its jiggling hilarity. The game even has a customisation slider to increase or decrease willy size, resulting in lots of, ahem, very-accurate-to-real-life representations. Conan Exiles also displays a woman's nether regions but in no real discernible detail.
Partial nudity presumably means a woman's naked top-half - also customisable - will still be displayed.
"The reason for this is if we included full nudity in Conan Exiles, this would have resulted in a more restrictive ESRB rating in North America which then might have prevented a broad release of the game," said community manager Jens Erik in a Conan Exiles Xbox One video stream (below).
On 16th August Conan Exiles will also receive the free expansion Frozen North, bringing a whole new frozen biome to hunt, scavenge and build in. Coinciding with the expansion will be a huge update for the game itself; Funcom considers this the beginning of Early Access Phase 2.
The new update completely rebalances the game. There's a whole new Exile's Journey tutorial for new players; there's a new air temperature feature for freezing or overheating; and there's new AI, focusing on humanoids to begin with, making them much more challenging, particularly in groups. Controls have been reworked, loot overhauled, and there's even the option of facial hair and a physique slider to play with.
Combat has separated light and heavy attacks, so no more charging up big hits, and you will no longer be able to sprint around and fight. New dodging animations have been added and blocking has been rejigged.
There's more detail in a Conan Exiles Steam post by game director Joel Bylos, as well as in a video embedded below. All in all these sound like much needed changes for the wooden-but-promising Conan Exiles I played at the start of the year.
"We're not done yet," added Bylos, "and we're aware that we have a lot left to finish. But the road is long and the journey hard. Along the way, we've been attacked by monsters and bandits and we're battered, but we're also halfway there."
Funcom intends to launch Conan Exiles on PC, Xbox One and PS4 in early 2018.