Here's what's coming in PlayerUnknown's Battlegrounds Update #4 for Xbox
Map selection is finally here!
PlayerUnknown's Battlegrounds Update #4 will roll out on Xbox One on 22nd January, 2019, releasing the new snow-themed map, Vikendi, onto the public server, and brings a new vehicle, new weapons, plus "many quality of life" enhancements and bug fixes. The update also ushers in map selection - finally! - so you can select from Vikendi, Erangel, Miramar, or Sanhok, or just hit Quick Join, which'll pop you in the first available game, regardless of map.
The update also introduces Survivor Pass: Vikendi, a new event that will run for the next 10 weeks. There are two tiers available; the Survivor Pass: Vikendi is available for all players to unlock as they level-up, whilst the Premium Pass provides "special missions and exclusive rewards". Again, you'll need to level up to unlock the rewards.
Altogether, there are five mission types; daily missions - of which you'll get three a day - and weekly missions, which offers ten. But while Premium Pass holders can complete up to 10 missions per week, Survivor Pass: Vikendi players will only be able to complete up to four missions. You'll also find some beginner missions, self-described a little self-explanatorily as "easy missions which are provided for beginner players". Perhaps surprisingly, the premium missions are available for all players to participate in... although given only premium pass owners can claim any rewards from them, you'll be forgiven for giving them a miss. Finally, there are specialist challenging and advanced missions for players who've completed all their weekly missions in a specific week.
A new 'Coupon' system has been added to Survivor Pass: Vikendi, too; you can claim Coupons - in blue, yellow and white - at each level, which can be used to unlock exclusive items in the Coupon Shop. These coupons are only available during the ten-week Survivor Pass period.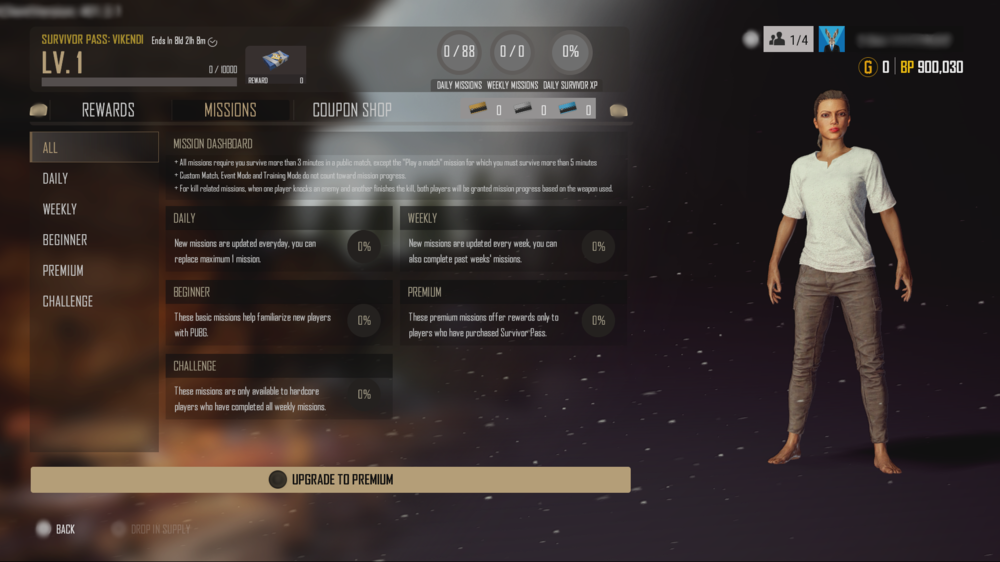 As for new weapons? First up there's a new handgun, the Skorpion, and it's coming to all maps and includes both single fire and full auto fire modes. Interestingly, though, it can be equipped with the Micro UZI stock, as well as a red dot sight, laser sight, suppressor, vertical foregrip, half grip, light grip and extended magazine only, boosting the clip from 20 to 40 rounds. The new G36C assault rifle, on the other hand, spawns only in Vikendi, can load 30 bullets (40 with an extended mag), and has a lower and upper rail for attachments.
Quality of Life tweaks include better magnification on the mini-map, and the player order between the lobby and game is now consistent, so players will have fixed numbers and colours based on the order in which they enter a game. A field of view slider has been added in First Person Perspective mode (FPP), and a new graphical settings option for Xbox One X - although it's not yet clear what that will do.
For more details, head on over to the official PUBG forums.