Hands on with Ghost Mode, Hitman 2's new 1v1 online multiplayer
Silent Apparition.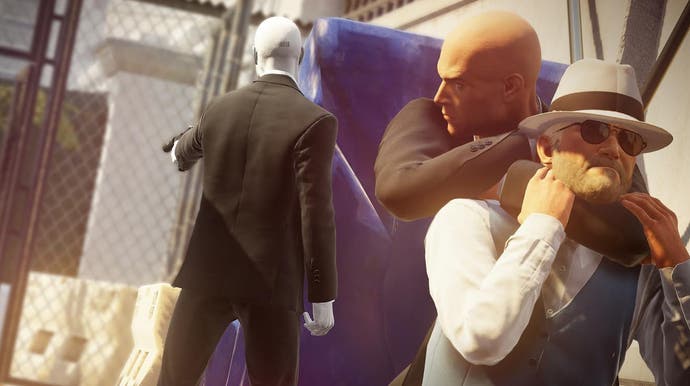 Hitman 2 will release with a brand new 1v1 competitive online multiplayer mode called Ghost Mode.
This is the first time that stealthy slaphead Agent 47 has indulged in any kind of competitive multiplayer, although the recent Sniper Assassin mini-game did offer a taste to series fans.
Ghost Mode pits two players against each other in a race to be the first to take out five targets undetected. Whilst players are given the same targets and are able to see each other in-game, they actually exist in separate instances. This means their actions will not affect the other player's world.
As you'll see in my hands-on video above, this added competitive edge really ramps up the tension and forces you to rethink the way you approach your targets. It takes a lot of self restraint to stay stealthy when you can actually see the other player approaching your target ahead of you and, in my experience, this led to a lot of collateral damage.
So why now and why competitive multiplayer? I put that question to Eskil Mohl, Associate Game Director on Hitman 2.
"One of the things we always found is that it's actually extremely competitive, Hitman. But it's a single player game so we have all these people trying to compete and do it the fastest, the most silent and whatnot and we thought 'there's such a big added layer when you're actually competing in real time against someone else.'
"So we really wanted to pursue that, just as we also wanted to bring coop as we showed off in the Sniper Assassin mode. Now we wanted to do the opposite and see what that gives you, but we wanted to do it in a way that was true to the mechanics we have. Sometimes we couldn't or didn't have any intention of saying 'Alright, let's just unleash two people in a map and stuff and have them shoot at each other' because other games probably do it better than what we can do with our systems currently, and you've seen it before.
"So we wanted to take it somewhere else [and] it needed to feel like a new take on a multiplayer experience and that's what makes me really happy when I play. My mind sort of thinks 'what is going on?' but when I'm in it I feel like it's a sensation I haven't tried in any other game and then it's extremely tense."
During my visit to IO Interactive I was also able to record a full playthrough of the newly announced Santa Fortuna map, which is set in the heart of a Colombian rainforest. While it lacks the huge crowds that were present in the Miami map, Santa Fortuna features lush vegetation to hide in and various caves and passages to explore.
Wacky assassinations are still present though and you can watch me kill a drugs baron with a tattoo machine in the video below.
Finally, if you've ever wondered what it takes to be a Hitman, check out my video below where Agent 47 (voice actor, David Bateson) judges my performance in the field to see if I'm good enough to become an ICA agent.
This article is based upon a press trip to Copenhagen. Warner covered travel and accommodation costs.