GTA Online Heists update also adds new modes, daily challenges
Trucks vs cyclists, sieges, more.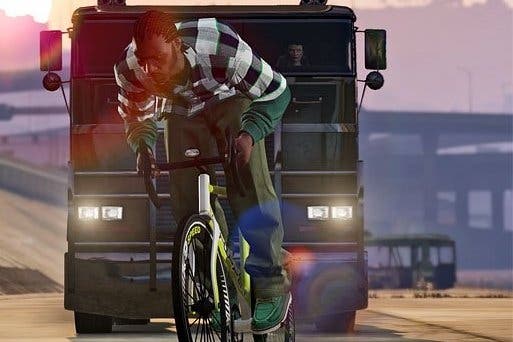 GTA Online's Heists update will also add a number of other new modes and features to the game, developer Rockstar has revealed.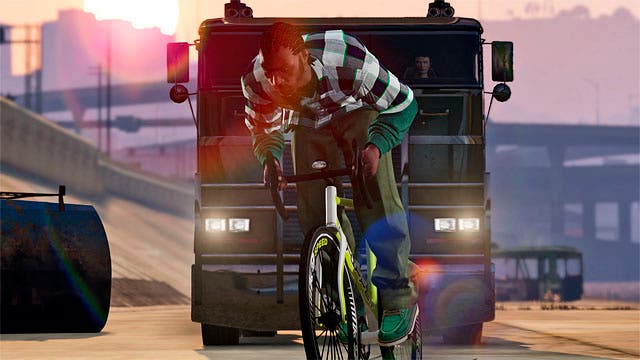 Three new PVP modes will be included, which will unlock as you make your way through the new Online Heists.
The first new mode, Come Out to Play, is a three-on-three fight as one team attempts to make it home. This team has just one life each but access to bikes and ATVs, while their chasers must stay on foot but can respawn indefinitely.
Rockstar's second new offering is Siege Mentality, where up to four players hole up against up to six attackers armed only with shotguns. Defenders must hold their location for as long as possible.
The last new mode is named Hasta La Vista, and sees gangs of truckers chasing cyclists to a checkpoint without being crushed underneath a set of lorry wheels.
A sprinkling of new Freemode activities will also be dropped in - where familiar characters such as Trevor, Lester and Lamar will call you requesting help with a quick job.
Daily objectives will offer a rotating set of challenges for you to tackle each day, with three new missions added every 24 hours.
Finally, Rockstar will add a new email messaging system for you to talk with GTA Online friends and fresh awards offering new clothing and car mods.
The update is set to arrive next Tuesday, 10th March for PlayStation 3, PS4, Xbox 360. Rockstar recently delayed the game's PC version again until 14th April, but it will launch with all the new content included.