GTA Online getting free Valentine's Day Massacre DLC
With gangster outfits, weapons, jobs and a limousine.
Grand Theft Auto 5 developer Rockstar will update the game's online mode this Friday with a free Valentine's Day-themed add-on.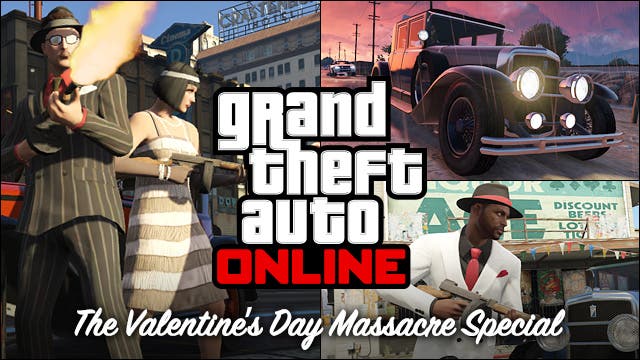 The Valentine's Day Massacre Special contains a number of new clothing items and jobs, plus a fresh gun and a swanky 1920s limousine... because nothing says "I love you" like dressing up as mobsters and shooting people.
The pack's items will only be unlockable for a limited time, Rockstar said, but if you nab them quick you can keep them forever.
Included in the pack are:
Gusenberg Sweeper tommy gun
Albany Roosevelt 1920s limousine
New suits and flapper dresses, "sexy undergarments" and masks, plus more novelty t-shirts and hats
10 new jobs, including deathmatches, a new parachute jump plus fresh land, sea and cycling races
Other GTA Online expansions are also on the horizon, including the Dangerous Business Pack, Online Heists and an update for the game's creator tool.