Gran Turismo may have fixed its long-standing sound problem
Vroooooooom.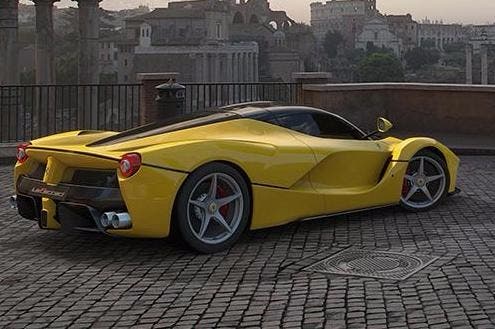 For a long time, Gran Turismo has had a problem with sound. Namely, its cars instead of roaring and barking and popping and wheezing whined like sickly hoovers, while everything was drowned out by tyres that squealed like a boiling bag of kittens.
That was supposed to change for Gran Turismo Sport, and developer Polyphony, if you'll excuse the turn of phrase, was making all the right noises. It had hired a sound designer from Forza Motorsport's Turn 10, and it put out a blog detailing how it was going about improving its audio design. And then, at the Gran Turismo Sport launch event, the cars all had engine notes that sounded like long, limp farts. It wasn't too promising.
Gran Turismo Sport has come on a long way since then, though, its visuals polishing up nicely (especially on the PlayStation 4 Pro version that's being shown off right now at an event in London) while its audio has come a long way too. It's still a work in progress, but what's on show here is a big improvement over what's gone before in the series.
I took a GT3 BMW M6 - the same one driven by Gran Turismo creator Kazunori Yamauchi at this year's 24 Hours Nürburgring - around Brands Hatch for a short hot-lap session. At first, it was a bit disheartening - using the bumper cam, the engine note still sounded hollow and weak, even over a pair of headphones that muffled the noise of a busy event.
Switching to the cockpit cam, though, reveals a very different dynamic - there, the transmission whine is more overpowering, and unlike the digital drone of past Gran Turismo games it at last feels like you're inside a complex, noisily mechanical piece of engineering.
Switch to the chase cam and you can hear the exhaust note more clearly and hear it pop and wheeze - suggesting that Gran Turismo Sport is extremely context sensitive when it comes to representing audio. Elsewhere, a replay featuring a bevy of prototype cars displayed a diversity of engine notes, from the turbo diesel whine of an R18 to the throatier V8 of the Toyota TS030.
Yamauchi himself seemed please with the results, turning the audio up during his presentation and telling me they've made progress but there's still more work to be done. Even after however long we have to wait for Gran Turismo Sport to come out (I did ask when it'll be out - Yamauchi smiled and simply said "We're working very hard on development, and it's coming along well...") this won't be the measure of something like RaceRoom. There's not the same drama or violence there, and it's still comparatively meek. But it's a substantial improvement over what's come before.
Gran Turismo Sport was also being shown on VR in a limited demo running on PlayStation 4 Pro with two cars running around Willow Springs. It's hard to get too much of a measure on it from the short demo - the trackside detail didn't seem as compromised as DriveClub VR's, but this is running on a Pro after all - and there's still some confusion as to how Gran Turismo Sport will handle VR. It's likely, however, that not all tracks will support the mode.
"It will be one part of the game," said Yamauchi. "One thing we discovered in developing and doing the VR, to do the whole game playable in VR is going to be a strain on the players. You can see in the demo downstairs, there'll be a VR Tour mode that'll be included in the game. That showcases the VR effects."
Not too long to wait, hopefully, until we can find out for ourselves. I did ask Yamauchi what takes his team so long, especially considering by the time Gran Turismo Sport comes out next year we'll have seen four Forza games on the Xbox One (and quite possibly five if Sport comes out at the tail-end of next year alongside Forza Motorsport 7).
"If you think about it from the release of GT6, to see we release next year with Gran Turismo Sport, the cycle over the years is pretty much the same," said Yamauchi. "In terms of the Forza team, they've got two teams working on different titles. In terms of the release cycle for Gran Turismo, we're on track as usual."