Get Gran Turismo 7 with a Logitech Wheel and Pedals for £265
We'd race to get this bundle.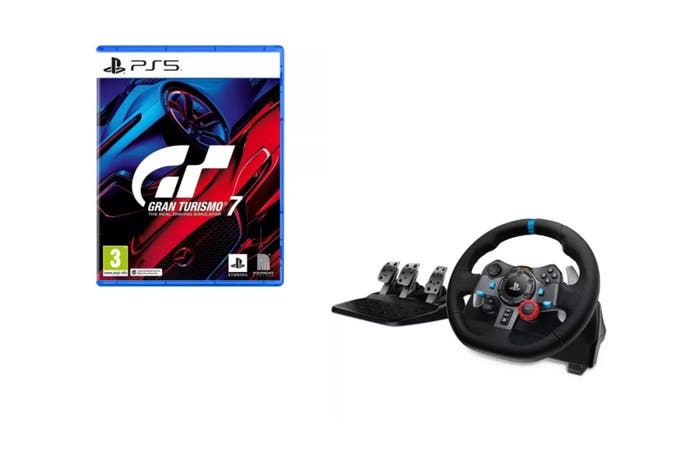 The latest entry into the Gran Turismo series, Gran Turismo 7, was released today on PS4 and PS5 where players can collect hundreds of cars and race them casually or competitively.
Gran Turismo 7 looks absolutely stunning, and will of course look the best on the PS5 as the improved hardware will be able to put the game to the limit. If you really want to get immersed in the GT7 experience, you would be best off using a driving wheel and pedals to play the game, and you can get them included as a bundle at Currys right now.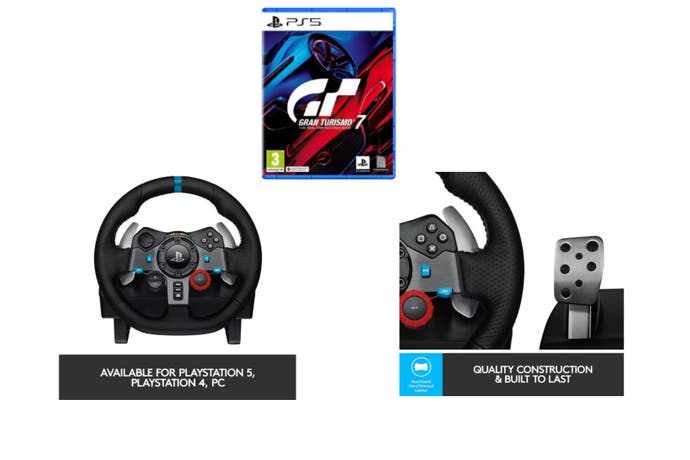 This bundle comes with the disc version of the game, so make sure you have a PS5 disc console, and the Logitech Driving Force G29 wheel and pedals. The Wheel has a dual-motor force-feedback mechanism and helical gearing, which gives smooth, accurate simulation of traction loss, weight shift and drifting.
In Gran Turismo 7 you can collect over 420 cars from day one, play on over 90 track routes in dynamic weather conditions, including tracks from older GT games, and play in 4K resolution and HDR at 60 FPS.
Gran Turismo 7 looks to have taken the franchise to the next level visually and in terms of gameplay, so now is a great time to get into the game and play it in the best way possible.
If you're a GT fan but don't have a PS5 yet, check out our PS5 stock tracker page to find where to get one. Or you can opt for the PS4 version with the same Logitech wheel and pedals for £5 less. There is a PS5 upgrade but you'll need to pay £10 to get the digital PS5 version. You'll also need a PS5 disc console if you're trying to upgrade after purchasing a physical copy of the game.
If you do have a PS5 but expect you'll need more space for GT7, make use of our best external hard drives for the PS5 list. Also drift on over to the Jelly Deals Twitter account where we'll alert you to more PS5 bundles and any discounts on Gran Turismo 7 and more.