GOW Collection bundled with GOWIII SE
Ultimate Trilogy Edition bound for Europe.
Sony has announced the God of War III Ultimate Trilogy Edition for PS3 in Europe.
It's similar to the American "Ultimate Edition", but better, because it also includes more downloadables and God of War Collection in addition to God of War III and all the other special edition goodies.
God of War Collection, of course, is the excellent high-def Blu-ray revival of the original PS2 God of War games, which received considerable applause on import.
The GOWIII Ultimate Trilogy Edition has yet to be dated or priced, but information should be released "in the next few weeks" according to the official PlayStation blog.
When the bundle does come out it will do so in "limited quantities" for "most European countries, Australia and New Zealand", and at the same time as the standalone God of War III.
As you can see from the pic below, it comes in an extremely fetching sculpted Pandora's Box, inside which lurk the game discs and various goodies: the trilogy soundtrack, a Blood and Metal EP inspired by the series, and loads of download codes.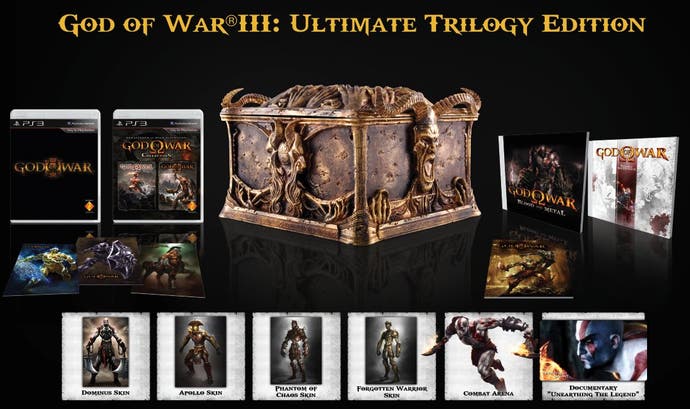 Those should net you an "Unearthing the Legend" documentary, a Combat Arena (new environment with seven challenges), and Dominus, Apollo, Phantom of Chaos and Forgotten Warrior character skins.
Not content with that, there's an artbook and even some postcards stuffed in the box, so you can write to your friends and tell them how foolish they were not to pre-order.