Goat Simulator dev's promising new game Satisfactory hits early access very soon
Think No Man's Sky crossed with Factorio.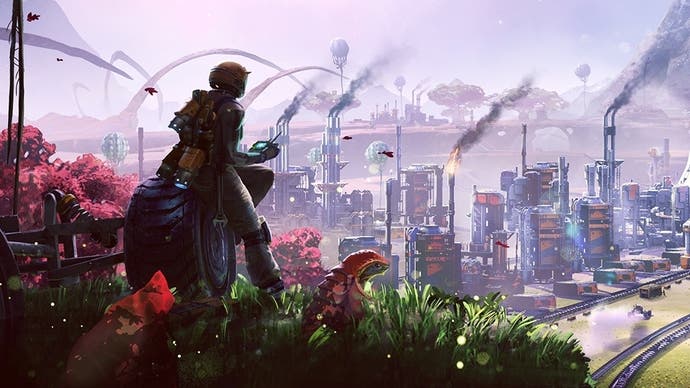 Satisfactory, the new game by Goat Simulator developer Coffee Stain Studios, will launch in early access 19th March, exclusively on the Epic Games Store (it is exclusive for 12 months - Coffee Stain has done a very nice Q&A video discussing the decision).
It's very different to Goat Simulator. Satisfactory is a bigger game about building epic factories across lush and exotic alien planets, you absolute monster. It's like a cross between No Man's Sky and Factorio, and the viewpoint being first-person really hammers home the scale of your creations - they're enormous!
You'll explore the planets to find new resources, including local wildlife and plantlife - which aren't always very friendly - and you can invite your friends in (up to four) if you so wish.
Satisfactory has been in closed alpha since autumn last year. It will be priced €30/$30.
I've seen more of it in action in a demo but I can't talk about that yet. Suffice to say: it's got real promise.