Epic Games Store hit Satisfactory launches on Steam early June
We're all together in this life.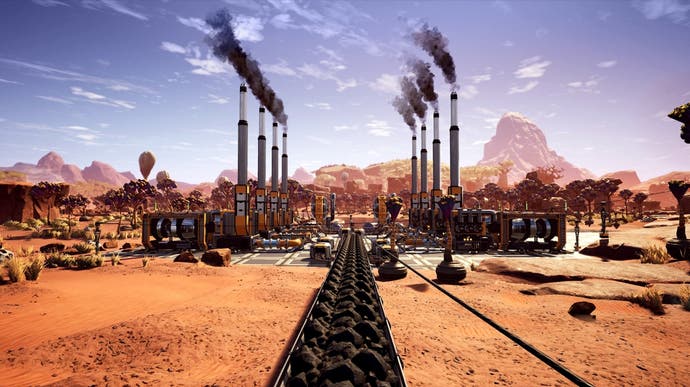 Epic Games store exclusive Satisfactory hits Steam on Monday 8th June.
Coffee Stain Studios' first-person factory building sim launches on Steam then in Early Access form.
In the video below, Coffee Stain programmer and community manager Jace Valetti explains why it has been hard for the studio to announce a concrete release date for Satisfactory until now, saying it was in part about avoiding crunch.
Satisfactory was first revealed in 2018 and went into Early Access exclusively on the Epic Games Store last year. In June 2019, Coffee Stain revealed Satisfactory was a big hit on Epic's platform, where it sold over 500,000 units in just a few months. Satisfactory is in fact the best launch ever from developer Coffee Stain, which is behind Goat Simulator.
Our Robert Purchese played Satisfactory and enjoyed it very much. "The absolute last thing I want to do when landing on a beautifully unspoilt, lush and exotic alien planet is build a clunking, grey, smog-spewing factory," he wrote. "But that's what Satisfactory makes you do, that's what it's about, and it's both horrid and inspired."