GameStop wants to buy GAME - report
GAME shares fall nearly 16%.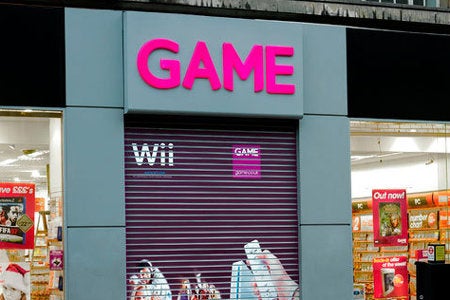 UPDATE: GAME Group has issued a note to shareholders in an attempt to calm concern over its ability to stock new games.
Its current stock issue with EA is "temporary", and both parties are working to make sure it doesn't happen again, GAME said.
"Today the Group confirmed that it will not be stocking a small number of titles from one supplier, Electronic Arts, during March and notes that this has caused speculation in the market," the statement said.
"This situation, which is a result of ongoing discussions between the Group and EA, is a temporary one and indeed both businesses are already engaged in discussions about future launches together. It is always a matter of regret when customers are inconvenienced, and both the Group and EA are committed to ensuring that this situation does not occur again."
GAME added: "As part of the strategic plan development process which it announced on February 3, the Group has been working closely with its suppliers, as well as other stakeholders. In particular, the Group has been discussing with its suppliers the level of support and engagement it needs from them over the coming months. There have, during that process, been isolated instances where it has not been possible to agree launch plans for individual game titles."
ORIGINAL STORY: Gargantuan US shop GameStop wants to buy GAME, according to a report.
GameStop is particularly interested in GAME's UK and Spanish businesses. It's not interested in the Australian stores, though, MCV said.
According to MCV, GameStop does not wish to "double up" by owning both GAME Australia and its own EB chain.
GAME, which confirmed this morning that it will not stock Mass Effect 3, FIFA Street, Tiger Woods 13, The Sims 3 Showtime or Mario Party 9, held a meeting with publishers last week to try to negotiate improved lending terms for stock.
"We committed to only stocking products on which we could get the right credit terms, regardless of the title or the supplier," an internal memo to staff read.
"We will not stock products if the terms are not right for our business - a position we believe is critical to our long term health as a business - we have taken the very difficult decision to not stock EA's March releases, including Mass Effect 3."
As of September 2011, GAME is a worldwide business of 1287 shops, 615 of which are in the UK.
GAME took £1.625 billion in revenue in its last full trading year. It expects to make an £18 million loss this year.
Today GAME's shares fell nearly 16 per cent, from 5.75p to 4.94p at the close of trading.
Given GAME is a PLC, any discussion with GameStop over a takeover would have to be declared to the stock exchange.
Both GAME, GameStop UK and GameStop US have declined to comment directly on the report.