Full Rezzed developer session schedule includes DayZ Standalone, Hotline Miami 2
Plus panels with top developers, hosted by RPS. Full schedule for next weekend's PC event now online.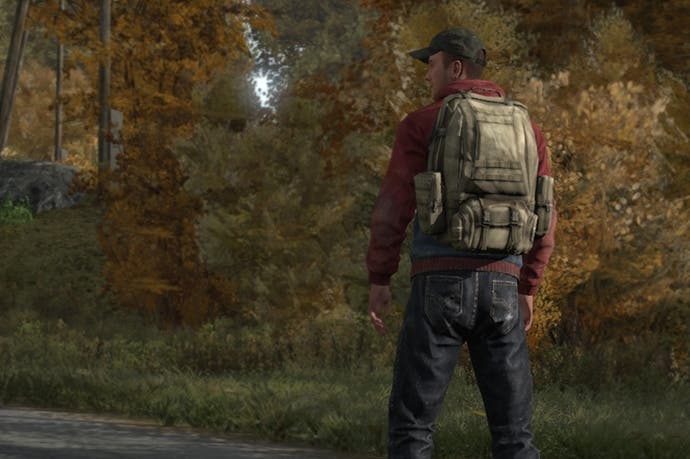 The final pieces of the Rezzed developer session schedule are now in place ahead of next weekend's PC and indie game showpiece at the NEC in Birmingham, and the last sessions to be announced include biggies like DayZ Standalone and Hotline Miami 2.
Each day starts off with a panel discussion hosted by Rock, Paper, Shotgun's John Walker, featuring top PC developers like Chris Avellone, Ragnar Tornquist, Chris Delay and Dean Hall.
After that you can also hear from the likes of Creative Assembly (Rome 2), Carbine Studios (WildStar) and Bohemia Interactive's Dean "Rocket" Hall (DayZ Standalone), each of whom will show their work in progress and take questions from the audience.
That's on top of previously announced sessions like Chris Avellone introducing Project Eternity, Ragnar Tornquist showcasing Dreamfall Chapters, and many more.
Tickets for Rezzed are on sale at www.rezzed.com. The show takes place at the NEC in Birmingham on Saturday 22nd and Sunday 23rd June. Yes, next weekend. Come along!
Check out the full schedule below:
| Saturday | Session | What to expect |
| --- | --- | --- |
| 12pm | Panel: How can new business models improve PC gaming? | John Walker hosts Mark Morris, Chris Delay, Paul Taylor, Chris Avellone and Ragnar Tornquist |
| 1pm | Prison Architect | Chris Delay and Mark Morris present an update on the developer's hugely successful alpha-funded prison-builder. |
| 2pm | A look back at Frozen Synapse and a look forward to Frozen Endzone | Mode 7's Paul Taylor and Ian Hardingham show how work on Frozen Synapse helped influence Frozen Endzone, with exclusive details on the new game. |
| 3pm | Dreamfall Chapters | Red Thread Games' Ragnar Tornquist, Martin Bruusgaard and Dag Scheve present exclusive new details on the Kickstarter-funded adventure title. |
| 4pm | Project Eternity | Obsidian Entertainment's Chris Avellone presents an update on development of this hugely successful Kickstarter-backed RPG. |
| 5pm | Sir, You Are Being Hunted | Big Robot's Tom Betts shows how procedural generation is being used by this tweedpunk open-world survival game. |
| Sunday | Session | What to expect |
| --- | --- | --- |
| 12pm | Panel: Is storytelling in games getting any better? | John Walker hosts Dean Hall, Chris Avellone, Ragnar Tornquist, Ed Stern and Will Porter |
| 1pm | Hotline Miami 2 vs. Luftrausers | Dennaton's Dennis Wedin and Vlambeer's Rami Ismail share the stage to showcase development of their upcoming indie titles. |
| 2pm | Total War: Rome 2 | The Creative Assembly present the latest work on the most ambitious real-time strategy game in the studio's history. |
| 3pm | WildStar | Developers from Carbine Studios showcases its upcoming science-fiction MMORPG, published by NCSoft. |
| 4pm | The Creative Assembly Game Jam | Having built a game in a day, teams present their work to an expert panel of Chris Avellone (Obsidian), Ed Stern (Splash Damage) and Keith Stuart (The Guardian). |
| 5pm | DayZ Standalone | Dean Hall returns to Rezzed to share progress made on the standalone version of his hugely successful zombie survival mod for ArmA 2. |
Those of you who came to Rezzed last year or who have attended the developer sessions at the Eurogamer Expo will know how they work already, but for any newcomers, they aim to recreate the behind-closed-doors intimacy of a trade show press demo and share new details on games in development.
Game-focused developer sessions almost always include an opportunity for the audience to ask questions, and the developers themselves are often buzzing around the show for the rest of the day, so there's plenty of opportunity to meet them.
Content for the sessions is chosen by, er, me - I work with feedback from the previous year's show, speak to lots of developers and publishers and try to assemble a schedule that includes a good spread of game types and development approaches and reflects any current trends. We distribute a survey to attendees after the show, so all feedback is appreciated.
Away from the developer sessions auditorium, Rezzed attendees will also be able to play a host of games on the show floor, including Rome 2, Company of Heroes 2, Splinter Cell: Blacklist, Hotline Miami 2 and tons of awesome indie games. There's also a board game area and after-show drinks on the Saturday.
Hopefully we'll see you there.
Full disclosure: Rezzed is organised by Gamer Network, which owns Eurogamer.net. Eurogamer staff help curate content and present sessions - including the above - but have nothing to do with the commercial side of the event. Check out our How We Work page for more information.