For Honor is free all this week on PC
And its "biggest and most ambitious update so far" arrives in October.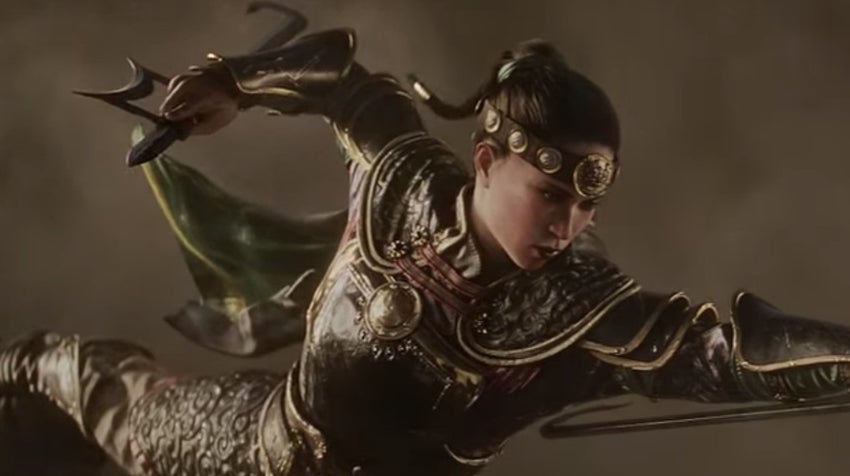 At its E3 showcase, Ubisoft announced that the Starter Edition of its melee-focussed multiplayer brawler For Honor, will be free on PC via Uplay from June 11th to June 18th.
The freebie heralds the announcement of a major new For Honor update, known as Marching Fire, that's due to arrive on October 16th. According to Ubisoft, Marching Fire is the game's "biggest and most ambitious update so far".
"After the great cataclysm that brought knights, vikings, and samurai to fight," the publisher explained, "civil war consumed China. Warriors of the Wu Lin factions fought each other but failed to establish order. Amid the chaos, four warriors of the Wu Lin now march west."
With that as the update's starting point, Marching Fire will introduce the new Wu Lin faction, four new fighters (the Tiandi, the Jiang Jun, the Nuxia and the Shaolin), new weaponry and fighting styles, visual enhancements - including improved textures, revamped lighting, new sky gradients - as well as single-player and two-player PvE content to be revealed at a later date. Additionally, there's a new 4v4 PvP mode, called Breach, playable across three new maps.
Breach sees players either storming or protecting a well-fortified castle armed with ballistae, cauldrons of fire, archers - and even "a heavily armoured ruler looking to protect his land". Attackers and defenders "must strategically manoeuvre the battlefield," explains Ubisoft, "as they escort or attempt to destroy a battering ram to gain access to the castle.
If any of that takes your fancy, For Honor's Starter Edition is free on PC via Uplay until June 18th - and various versions will be available for purchase at up to 75% off on PC, PlayStation 4, and Xbox One. The Xbox One offer ends on June 17th, and on June 19th on PS4, .