For Honor gets the Highlander and the Gladiator this month
As part of season three.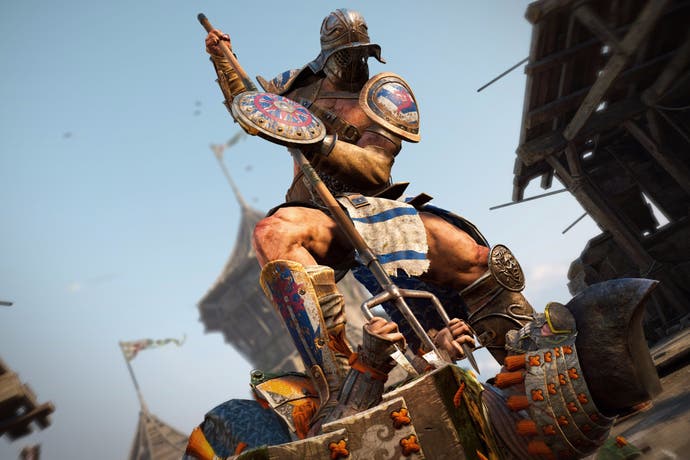 For Honor gets two new heroes this month: the Highlander and the Gladiator.
The Gladiator, who fights for the Knights, carries a trident and shield and little armour. They're agile, with a bigger stamina meter and faster cooldowns than the other heroes. They can also punch enemies to set them up for stuns and attacks. Here's a teaser.
The Highlander, who fights for the Vikings, uses a claymore, which is heavier than any other sword but also has more reach. Highlanders can switch between two different fighting styles: defensive, which focuses on counter-attack, and offensive, which prevents them from blocking.
Both the Gladiator and the Highlander come out on 15th August for season pass owners, then are available to unlock for 15,000 Steel each from 22nd August for everyone else.
Their arrival comes as part of season three of the game, called Grudge and Glory. This adds two new maps, new gear and ranked duel tournaments. There's a new legendary gear rarity, too, and the reputation cap for heroes is raised to 40. The video below goes into more detail.
It's worth noting that the development team at Ubisoft has reworked some of the existing maps to remove some of the traps and pits some players found annoying. Skip to the three-minute mark to see how one map has had a pit covered up to make the area less lethal.
Ubisoft recently announced dedicated servers are coming to For Honor, a move designed to combat ongoing connection and matchmaking issues. It calls season three a "breath of fresh air" for the For Honor experience. Clearly, the developers are sticking with the game in the hope updates and fixes will grow the audience.