First shots of F1 2015 leak
UPDATE: Codemasters responds to leaked images of its current-gen debut.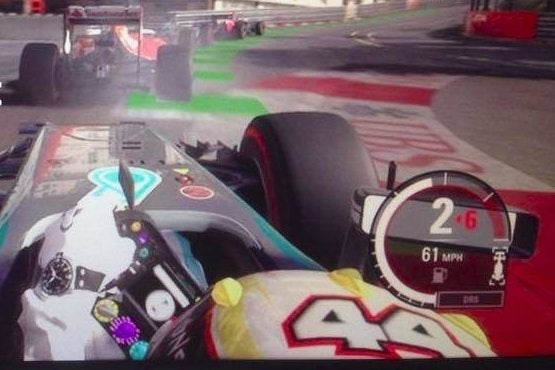 UPDATE: Codemasters has sent Eurogamer the following statement about the leak: "The work-in-progress images were taken from a confidential internal development email. At this time, all content is subject to approval by Formula One Management and the teams."
ORIGINAL STORY: First shots of F1 2015 - Codemasters' debut on current generation hardware - have leaked via an internal report that has made its way to Facebook.
The shots - spotted on VirtualR, though the originals have already been taken down - show a visual upgrade for the series, with improved lighting and anti aliasing noticeable in an onboard shot of Lewis Hamilton tackling Monaco's Ste Devote corner.
The slides the images originate from also reveal more details about the forthcoming game, which is scheduled to arrive earlier in the season than previous games. F1 2015 will ship with last season's cars and races and a selection of this year's models, with updates added through the year bringing the game up to date.
Alongside renders of cars, including a hybrid Sauber that brings together parts of the 2014 car with the 2015 model, there's a render of the remodelled circuit in Mexico City that's returning to the F1 calendar this year.
A final slide reveals Codemasters' ambitions for the current generation version of F1 2015. "The ongoing quest for 60fps continues," it reads. "On PS4 we're hitting around 45-55fps at 1920x1080... There are still plenty of optimisations to be made on both the CPU and GPU side and this is ongoing."
We've approached Codemasters for comment, and are awaiting an update.