F1 2015 review
Standing start.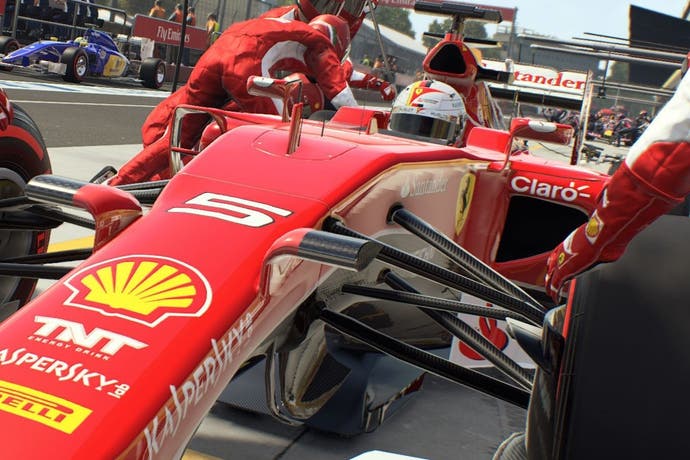 A welcome reboot for the series, F1 2015 can be more thrilling than the sport itself at present - but it's let down by a dearth of features.
What a strange, unsatisfying season it's been in F1 so far this year. The high drama of last year's tête-à-tête between Lewis Hamilton and Nico Rosberg has been lost as the paddock gets caught up in self-loathing, leaving us with the frequently dismal sight of the same two cars romping around at the front while one of the sport's best drivers dawdles round at the back of the field the few times his Honda power unit is kind enough not to eat itself.
What a strange time for Codemasters to reboot its F1 series then, some six years and seven games into its stint with the official licence. Following last year's lacklustre stopgap, it's a change of direction that's come not a moment too soon.
This slightly belated series debut on Xbox One and PlayStation 4 promises a new take on F1 for a new generation of consoles, though given Codemasters' stature it's unrealistic to expect a total overhaul - more Manor Marussia than Mercedes, its downsizing in recent years has clearly taken its toll on its output, and F1 2015 offers significantly less than many of its predecessors. Gone is the career mode, the classic cars that made a fleeting appearance in 2013 are yet to return while the safety car is entirely absent, and there's no split-screen multiplayer either.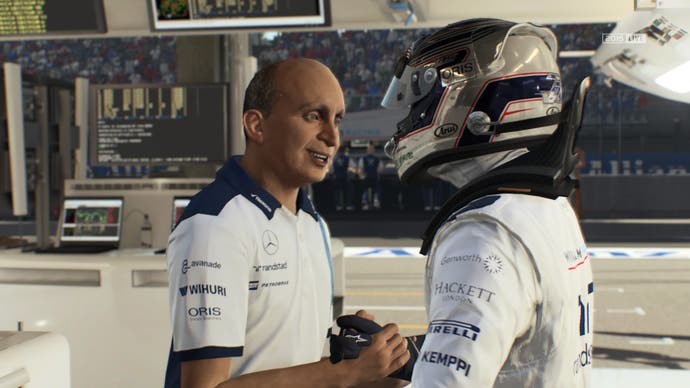 Oddly enough, the relatively slim package that's F1 2015 can work in its favour, throwing the spotlight on what has changed. Codemasters has taken the opportunity to address the fundamentals of its spin on the sport, resulting in a game that, over time, reveals itself to be the most significant step forward for the series since its first outing way back in 2010. For those who've patiently plied away at each entry in the intervening years, it's a breath of fresh air.
It starts with the visuals. F1 2015 isn't going to trouble the likes of Project Cars, Forza or DriveClub, but it's a significant step up for the series, injecting the often featureless autodromes that make up the F1 calendar with as much colour and character as you could reasonably expect. Monaco is dense with detail, the insanity of racing around the principality sold more convincingly than any other game before it, while incidental touches such as the blossom that floats across the Silverstone start-line or the leaves that crowd the Circuit Gilles Villeneuve bring everything to life. More importantly it offers a reasonably steady 60fps, come rain or shine, that makes this feel like Codemasters' slickest F1 game yet.
That frame-rate helps with F1 2015's other noteworthy change: a handling model that feels like a steeper step up than the visuals. The current breed of F1 cars are a snappy, high torque bunch, the muted whine of their power units hiding the savage bite that's waiting for those with a heavy foot. F1 2015 communicates that brilliantly on both a pad and a wheel, giving cars that are engaging and, when pushed to their limits, exciting.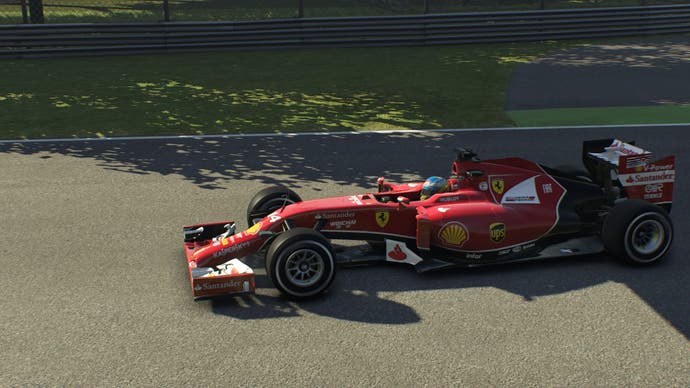 A sweet spot's been hit somewhere between high-downforce, high-speed thrills and the more heart-in-mouth tail-out moments. Tear through the wide, sweeping curves that make up the back section of Malaysia's Sepang circuit and you can feel pound upon pound of aero palming the car down into the tarmac. Meanwhile, the window you're given to toy with the car when it decides to get a little unruly, and when all that torque overwhelms the rear tires, is pleasingly generous. The constant bickering between driver and car as the steering wheel is flicked this way can make you feel like a hero on every corner exit.
The driving's a treat, then, and the racing can be just as wonderful. F1 2015's made a small, subtle shift towards managing cars over simply thrashing them to bits, with a new emphasis on the relationship between yourself and your engineer that now plays out in a more nuanced, believable manner.
The engineer now relays more information (in a delightful touch, you can have his audio pumped out of an in-ear headset) and in turn you can ask him for advice as you deal with tire degradation, engine mapping and reading the skies for inbound weather, figuring out the fastest, most efficient way to work with what the current regulations have thrown contemporary F1 driver's way. It brings to mind Fernando Alonso's recent comments that driving a modern F1 car is more akin to being an airline pilot, but for anyone burnt out by standard go like hell racing games the constant management of systems that entails isn't necessarily a bad thing.
Beyond those fundamentals, F1 2015 begins to fall apart a little. The omission of the career option doesn't rankle with me so much as it will with others - I've always thought that providing a fully licensed season and a scoreboard is much more immersive than keeping check of an email inbox or idly scrolling through what people are saying about you on a fictional social network ever could be - so the championship mode that's at the heart of the game does the trick.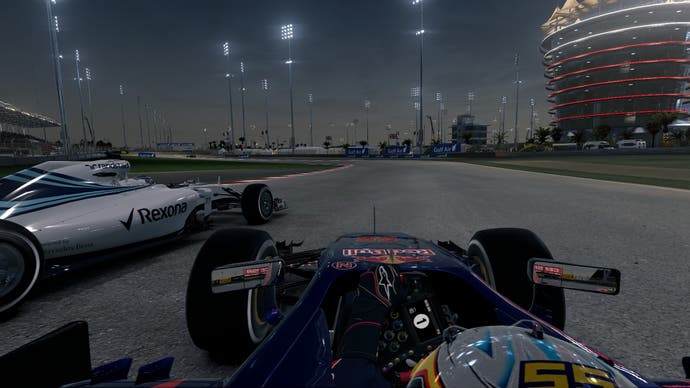 It can't really be excused of skimping on content, either. With both the 2014 and 2015 seasons represented, there's some 20 circuits to pound around (including the Autódromo Hermanos Rodríguez which returns this season, great news were it not for the fact that Peraltada, the once fabulous final corner, has been slaughtered), and it's a track list most other racers would be rightly envious of.
But even with all those tracks it still feels like half a game, with a dearth of options beyond the core championship and some odd omissions suggesting this one wasn't quite ready to roll out. There's no way to run a full qualifying session during a season if you're unwilling to compete in anything below 50 per cent race distance, the Time Trials now lack any structure (even if they benefit from more dynamic leaderboards) and it's telling that a hard mode that locks you into cockpit view and strips away the HUD is being billed as one of F1 2015's key features.
Such cuts mean that F1 2015's ultimately too slight, and too much of a compromise, to unreservedly recommend. It feels less like a reboot and more like a foundation for what's to come, when some of the features that have been excised will be slowly rolled back in. Still, if your passion for the sport hasn't been dimmed in recent months, you may well find that what's at the heart of F1 2015 can quite often outshine the real thing.