F1 2015 injects a little more drama into Codemasters' series
All torque no trousers.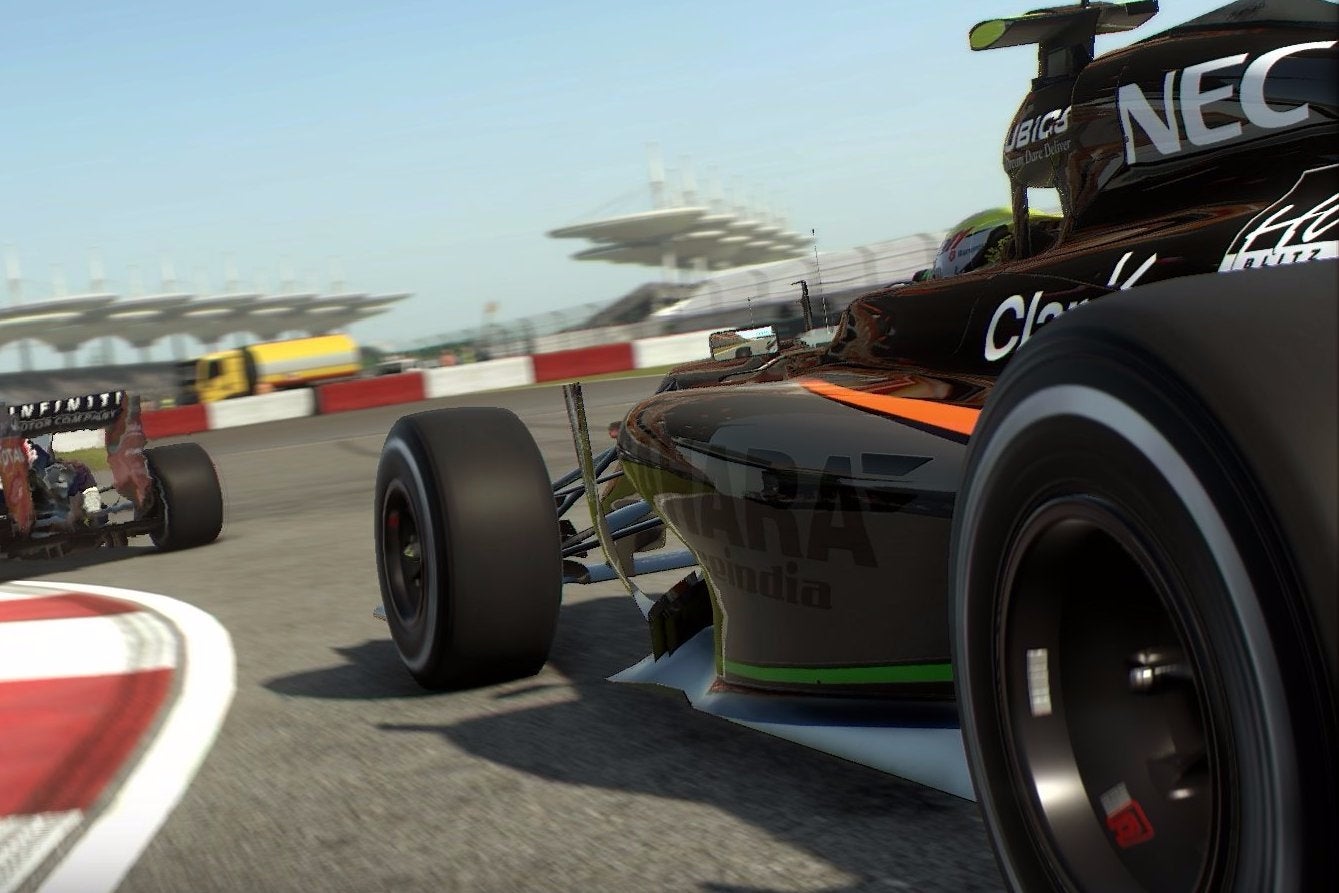 Amidst all those glorious handbags being tossed between Lewis Hamilton and Nico Rosberg in the Mercedes camp last season there was a different kind of drama being played out across F1 in 2014. It wasn't one likely to grab the tabloid headlines but it was every bit as spectacular, as the torque provided by the new breed of hybrid power units worked in unison with more slippery aerodynamics to make for cars that could really dance.
Look back at the strong-armed heroics of Valitteri Bottas as he wrestled the Williams FW36 in that delicious Martini livery on corner exits, the tail wagging like that on an excitable puppy. The turbo V6 units might not have made as much noise as their high-pitched V8 predecessors, but they provided an edge to F1 that had been missing for some time.
After the somewhat lacklustre F1 2014, a stopgap for Codemasters' F1 series as it bought time to work on its new generation debut, it's pleasing to see those heroics are front and centre of F1 2015. These cars are a real handful, requiring a delicate throttle finger and the need to curb the desire to simply floor it when heading out of a corner. Even with a feather-light approach, you'll still be micro-managing your way out of several near-disasters as the rear tires paint all that horsepower on the tarmac with the free-form dynamism of an abstract expressionist.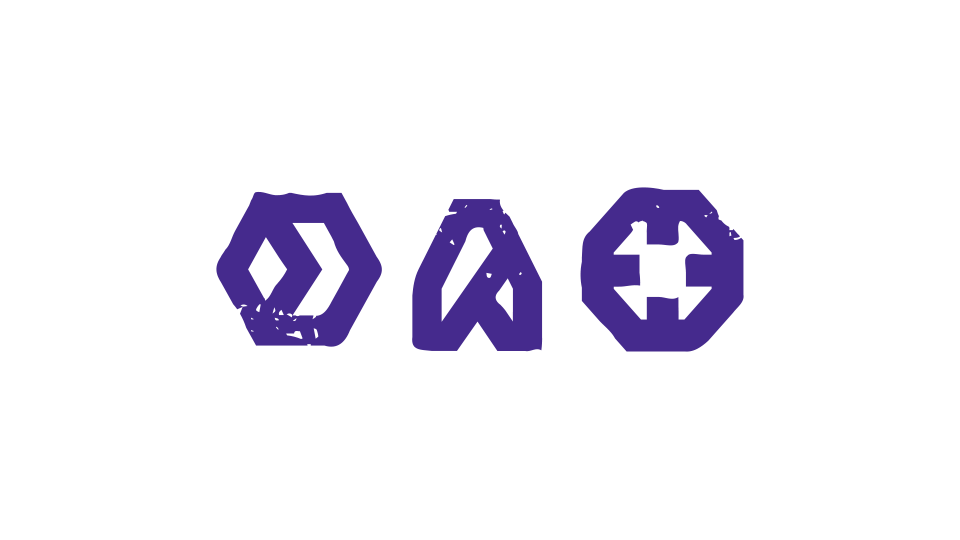 "There's the extra torque of the engines," says game designer Steven Embling. "It comes in a lot lower this time around, and it's quite a kick. In 2013, there wasn't really a lot of torque in the engines, you had to rev really high, but now it's a lot earlier in the rev range. And Pirelli have introduced new tires - we think we've got something very, very close. The handling, it's more simulation than we've ever done before."
What's heartening is that F1 2015 plays just as well on a pad as it does on a wheel - something which certainly couldn't be said of last year's entry, a game that utterly fell apart when played without a steering wheel to unlock the nuance of the handling model.
"The thing with 2014 is that everyone wanted to make it accessible," says Embling. "I think that perhaps had its toll on the simulation - it maybe got pushed to the way-side. This time we built everything to support that simulation. The force feedback is a lot stronger, and a lot more accurate - it comes from the tire forces and the suspension loading."
It certainly feels alive in the one track available for the first look at F1 2015, a sodden tour of the Singapore street circuit that takes place under floodlights. The choice of location helps underline the drama of the new handling model, but it does something else too: it underlines that this is a new start for the F1 series for its debut on Xbox One, PlayStation 4 (and not forgetting, of course, PC).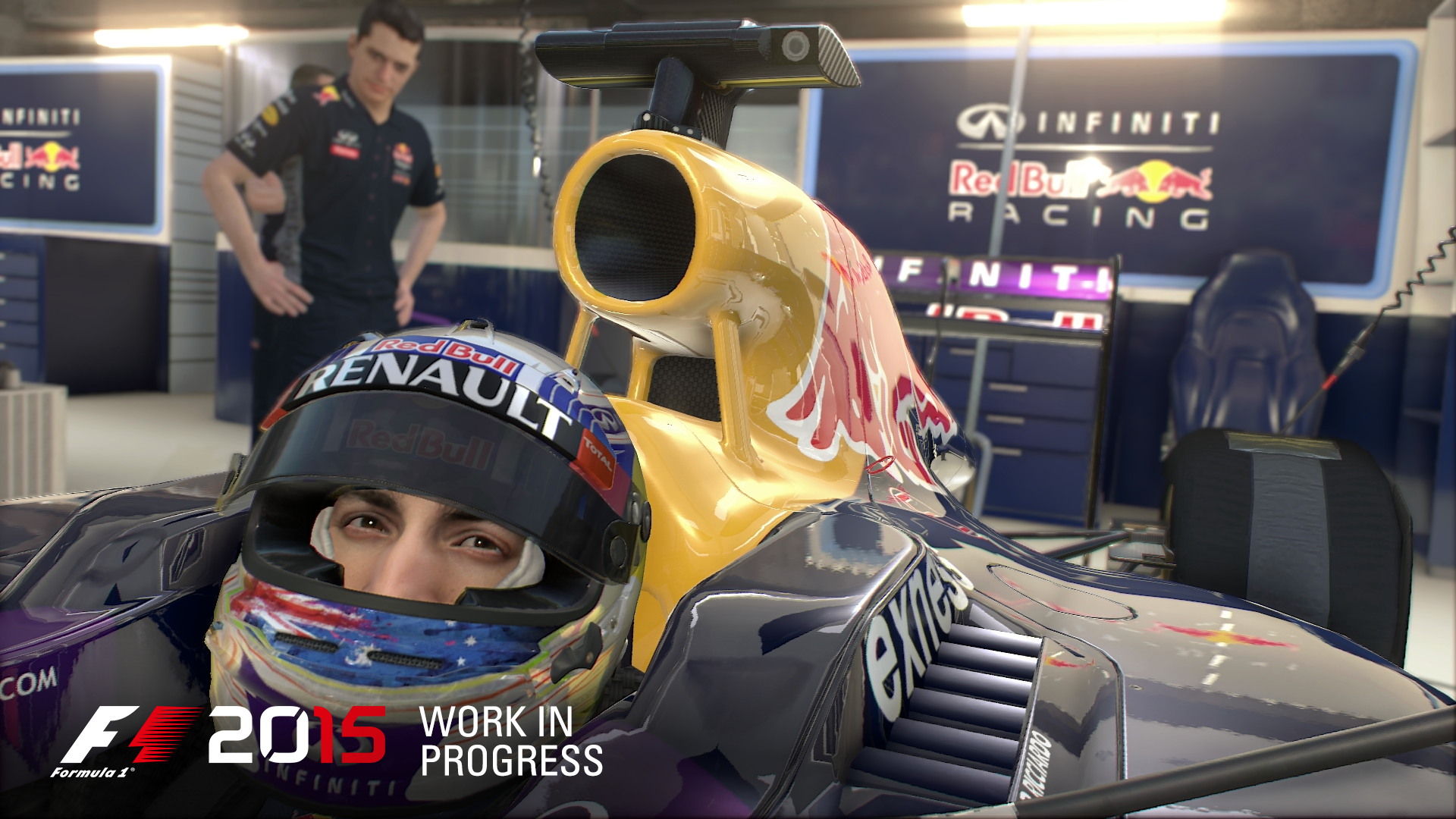 F1 2015 is a good-looking game, and it does all you can reasonably expect with the F1 experience to make it pop with the visual fidelity expected with the current generation. Singapore's street circuit has always had something of Wipeout about it and that's accentuated here, the neon-infused streets stretching out into the distance as banks of blue lights are reflected in puddles that sit across the tarmac. If it can hit 60fps, as Codemasters intend to on both Xbox One and PS4, it could be very impressive indeed.
A graphical overhaul was the baseline that F1 2015 needed to hit, and Codemasters seems to have succeeded here, so what else is new for what's intended as a reboot of the series? Here it's slightly slimmer pickings, and it's a little concerning that the presentation leads with a look at the boxart for the new game - a selection of headshots of this year's F1 contenders that clearly apes the look of FIFA, and marks out Codemasters' ambition to establish its own series as a premier sporting brand.
Codemasters doesn't have the budget of EA, of course, and that's something evident in the more low-key offerings in F1 2015 itself, its key new feature being a broadcast mode that prefaces each race with commentary from Sky Sports F1's team of David Croft and Anthony Davidson as they set the scene over images of your chosen driver chatting to their race engineers. It's all a little static, starring likenesses that seem half-baked, though it's an appreciated attempt to embed you further into the action.
Which ties into F1 2015's other new feature: the ability to pick any driver from the F1 field and do a full campaign with them. It's hard to get excited about a feature that really should have been present from day one of Codemasters' F1 tenure back in 2009, though. Elsewhere, it feels like a stretch to call the new Pro Championship mode - a career offshoot that locks players to helmet cam while removing all assists and the HUD - a feature. It's an option, and one that's always been there from the off for players so inclined.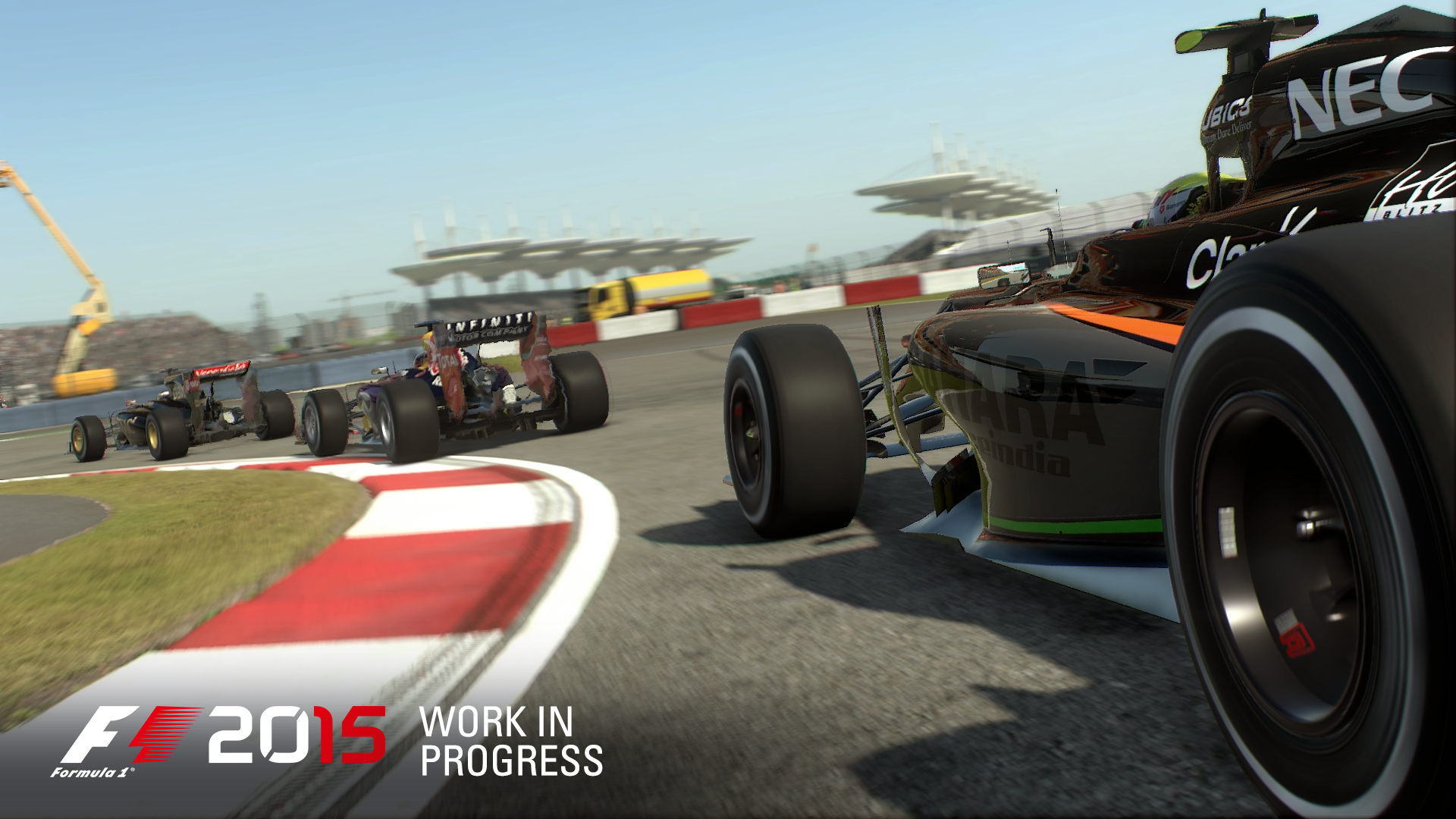 At least F1 2015 now comes out when the season's in full swing (or not, as the case may be, following the two soporific races either side of the more entertaining Malaysian Grand Prix). This year's game comes out in June with last years' grid in its entirety plus all of the 2015 cars as they lined up in Australia - which means no Manor, and a sickly McLaren-Honda that must have new recruit Fernando Alonso looking longingly at the Ferrari he's left behind. An update due after release will introduce Manor, as well as some performance updates based on the action over the next few races.
"The most interesting one is McLaren and Honda," says Embling of how F1 2015 will evolve. "How's that going to improve over the season? That's what the season update's for. They think they're quick, but they haven't been able to show it yet because of they've had to turn the engine down, they're losing 100bhp which is a dramatic amount. On the corners it's looking like quite a nice car, though."
F1 2015 adds value in including the 2014 and 2015 seasons, although the classic cars that starred in F1 2013 don't make another appearance. It is something, however, that's on the sidelines and could well feature in future Codemasters' F1 games. "I personally really enjoyed working on the classic content," says Embling. "I'd like to think that in the future we can work more on that, but not in this title."
How many more Codemasters F1 games there will be remains to be seen, with another year left on the licence, and with the intent on the publisher's behalf to renew it once time is up. F1 2015 doesn't exactly mark a bold new direction for the series, and it's not quite the reboot that was promised, but in its full-blooded simulation of the new breed of F1 cars it is at least a reminder that Codemasters understands where the sport's real appeal lies.