Final Fantasy 14 gets Final Fantasy 7's Gold Saucer next month
Chocobo Racing! Triple Triad! Nostalgia!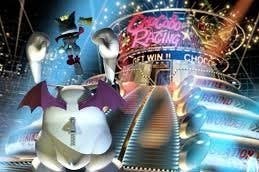 Remember the Gold Saucer from Final Fantasy 7? It's coming to Final Fantasy 14: A Realm Reborn.
In Final Fantasy 7, the Gold Saucer is a huge amusement park packed with mini-games operated by Dio. Fans of the game will remember the location for being the place Cait Sith joins your party, as well as Chocobo Racing.
Square Enix will add a version of the Gold Saucer, called The Manderville Gold Saucer, to its massively multiplayer online role-playing game Final Fantasy 14: A Realm Reborn as part of the much-anticipated Before the Fall patch 2.5.
The patch is divided into two parts. Part One comes out on 20th January. The Saucer arrives in late February as part of patch update 2.51. Then Part Two comes out late March.
FF14's Gold Saucer includes Chocobo Racing and, from Final Fantasy 8, card game Triple Triad.
You can see it all in action in the video below.