FIFA has a new world champion
Spain wins again.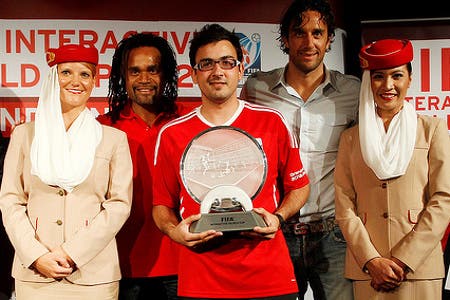 Spain's Alfonso Ramos has been crowned the 2012 FIFA Interactive World cup champion.
He beat 2009 champion Bruce Grannec on penalties in the final in Dubai, and is now the first to win the tournament twice. He won $20,000 and a ticket to the Ballon d'Or Gala.
"When I won in 2008 I think there were maybe 100,000 players and now it's over a million. It's become so very hard," the 21-year-old Real Madrid fan said.
The final itself ended goalless, even after extra time. "I usually play with the mentality of my opponent when it comes to penalties," said Ramos.
1.3 million took part in the tournament, which was played out online and at events across the world.
Sony Computer Entertainment Europe communications chief Nick Caplin said: "PlayStation would like to congratulate Alfonso Ramos on his fantastic victory in this year's FIFA Interactive World Cup. This year's tournament has been an incredible success with over 1.3m players playing via PlayStation Network and we look forward to taking the tournament from strength to strength in the coming years."