EA explains why Euro 2012 FIFA add-on isn't a standalone game
It's a way of offering "loyal, passionate FIFA fans new content."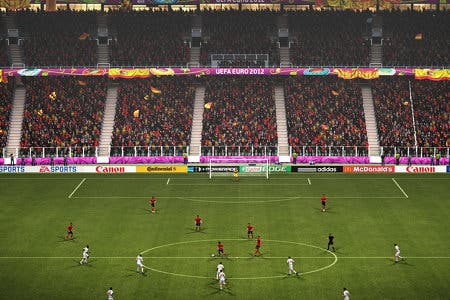 EA decided to launch UEFA Euro 2012 as a FIFA 12 expansion rather as a full retail release as a way of offering "loyal" fans of the franchise new content, while also bringing in new players.
Speaking to Gamasutra, comms boss Steve Frost explained that the publisher felt a DLC release was "the best way to extend [the FIFA 12] experience and deliver fresh new content to our fans."
"We expect footy fans will want the opportunity to play UEFA Euro 2012 and experience what it takes to win the tournament under the same conditions their favourite nation will face in the weeks ahead," he continued.
"We expect that some fans who may not have FIFA 12 will want to play Euro 2012 and therefore purchase both, but the bigger opportunity for us is to offer our loyal and passionate FIFA fans new content."
As announced yesterday, the add-on is available from 24th April priced at £15.99 or 1800 Microsoft Points.
EA launched standalone games for both the World Cup in 2010 and the 2008 Euro championships, as well as its regular annual FIFA release.