FIFA 20 TOTW Moments 4: all players included in the 4th Team of the Week Moments from 8th April
All players in the FIFA 20 TOTW Moments 4.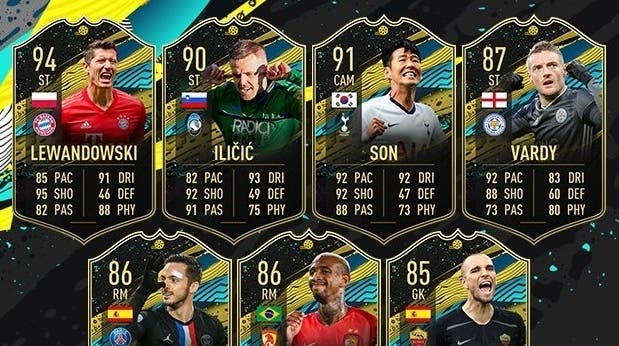 FIFA 20 TOTW Moments 4 is upon us, with the 4th Team of the Week Moments announcement now live and in the wild.
The traditional release time and day of the week continues, despite the shift to the new Moments format, with the cards featured in the latest Team of the Week Moments officially available in packs from Wednesday, 8th April at 6pm UK time, where they'll be around for seven days before the next TOTW Moments comes into play. In other words, nothing particularly new here!
FIFA 20 TOTW Moments 4: all players in the 4th Team of the Week Moments starting 8th April
As we continue with the altered TOTW Moments format, it's a slightly better week for players, including a 91 rated Son and a good old Lewandowski card leading the front line. There are also even fewer players this week, note, with the reserves bench dropping down to three for a total of 21 in the squad.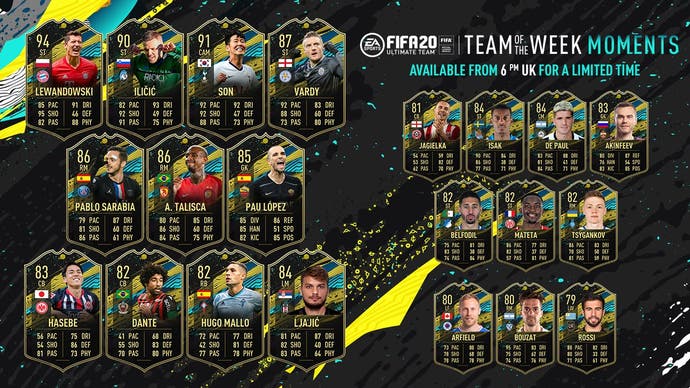 FIFA 20 TOTW Moments 4: starting 11
Lewandowski - ST - 94 - Bayern Munich
Ilicic - ST - 90 - Atalanta
Son - CAM - 91 - Tottenham Hotspur
Vardy - ST - 87 - Leicester City
Pablo Sarabia - RM - 86 - PSG
A. Talisca - RM - 86 - Guangzhou Evergrande
Pau Lopez - GK - 85 - Roma
Hasebe - CB - 83 - Eintracht Frankfurt
Dante - CB - 83 - Nice
Hugo Mallo - RB - 82 - Celta de Vigo
Ljajic - LM - 84 - Beşiktaş
FIFA 20 TOTW Moments 4: substitutes
Jagielka - CB - 81 - Sheffield United
Isak - ST - 84 - Real Sociedad
De Paul - CM - 84 - Udinese
Akinfeev - GK - 83 - CSKA Moscow
Delfodil - ST - 82 - 1899 Hoffenheim
Mateta - ST - 82 - Mainz 05
Tsygankov - RM - 82 - Dynamo Kyiv
FIFA 20 TOTW Moments 4: reserves
Arfield - LF - 80 - Rangers
Bouzat - RM - 80 - Vélez Sarsfield
Rossi - LW - 79 - Los Angeles FC
---
Looking for more on FIFA 20? So far we have the key details on the FUT Chemistry explained and a Chemistry styles list and affected attributes, a detailed FIFA 20 Volta mode guide and details on how to earn Volta Coins in FIFA 20 fast, a list of the top FIFA 20 potential wonderkids: the best young players and hidden gems, the full FIFA 20 player ratings and top 100 players, an in-progress FIFA 20 Ones to Watch OTW players list, and a full FIFA 20 Icons list, too. Finally, check out our SBC pages on the Teemu Pukki SBC solution, Josef Martínez SBC solution and Robert Lewandowski SBC solution, as well as pages on FIFA 20 five star skillers, plus the best FIFA 20 goalkeepers, best FIFA 20 defenders, best FIFA 20 midfielders, best FIFA 20 wingers, and best FIFA 20 strikers for an in-depth look at each position. Finally, check out the latest in-forms in this week's FIFA 20 TOTW, number 40 and our full FIFA 20 Ultimate Scream cards and players list, too.
---
When it comes to Team of the Week Moments, always remember this works the same as regular Teams of the Week, which means you'll only be able to get these featured players in packs for the next seven days from the moment this TOTW goes live. After that, all 21 players will leave the packs, which means they'll only be available on the transfer market and, therefore, in short supply. Good luck in the search for Son once again!