FIFA 19 in-game message warns FUT players against coin distribution
Cash up time.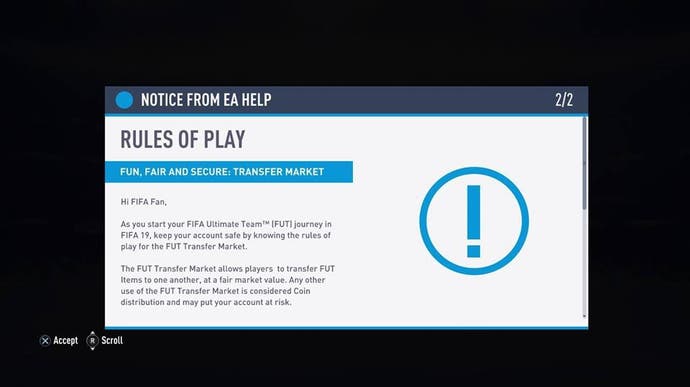 FIFA 19's Ultimate Team mode begins with a couple of in-game messages, one of which is a stark warning against coin distribution.
EA Sports' battle against third-party FUT coin sellers is long-running and well-documented. As I reported last year, there are a huge number of these websites, which let you buy FUT packs and coins, and sell your coins and even accounts. In short, the FIFA Ultimate Team black market is huge, despite EA's attempt to combat it over the years.
Now, FUT fans with early access to FIFA 19 were greeted by an in-game message about coin distribution. FUT's in-game auction house is for transferring players "at a fair market value", the message reads. Any other use is considered coin distribution - and EA may ban you from the game for it.
The warning goes on to list examples of coin distribution. It mentions buying or selling FUT coins, giving or receiving FUT coins from another player or transferring FUT coins between accounts.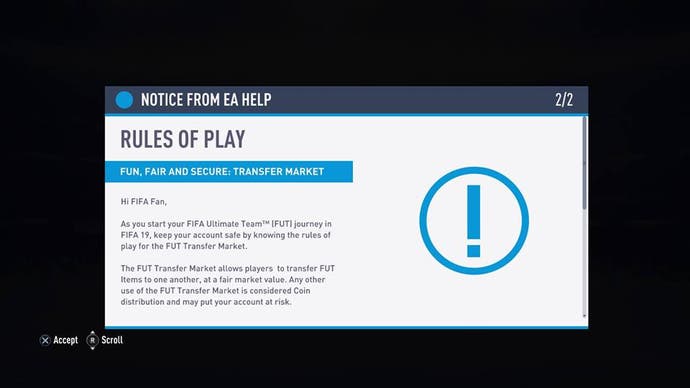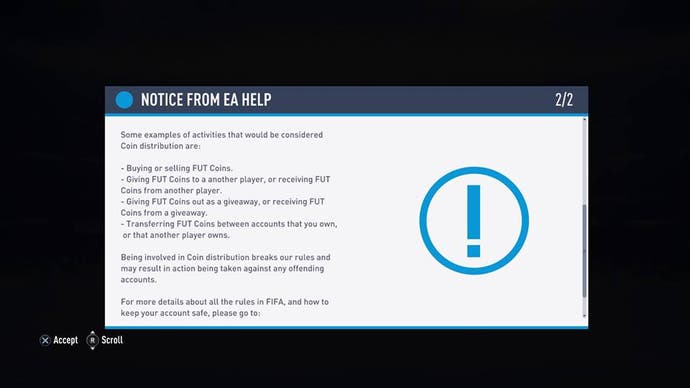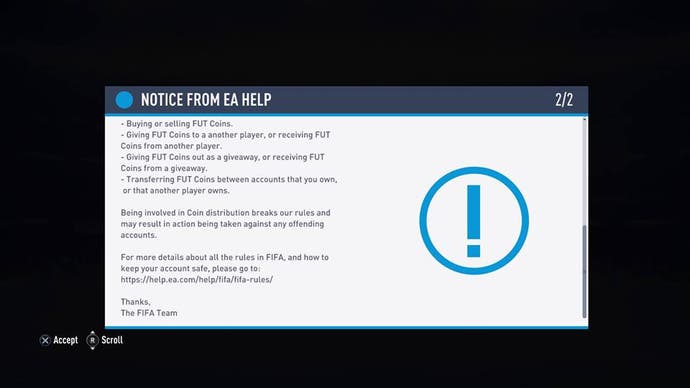 While the issue of coin distribution is nothing new this year, it is of renewed importance in the context of ongoing government action over loot boxes in video games. Some countries, such as Belgium, now consider loot boxes to be a form of gambling and have demanded changes.
One of the determining factors is the ability to "cash out" in-game items for real world cash. EA has so far refused to change the way FIFA works in Belgium, insisting loot boxes - and in the case of FIFA, FUT card packs - are not gambling. "We don't believe that FIFA Ultimate Team or loot boxes are gambling," EA boss Andrew Wilson said in an earnings call in May.
"Firstly, because players always receive a specified number of items in each pack, and secondly we don't provide or authorise any way to cash out or sell items or virtual currency for real money."
While Wilson is correct to say EA does not authorise any way to cash out FIFA items, players are still able to do so via third-party websites. Will this new in-game message make a dent in FIFA's booming black market? It's unlikely. But perhaps the move is more about being seen to be sending a message while under the gaze of governments than it is about affecting a change.