Far Cry 5 tops UK chart with biggest launch in series' history
Cult hit.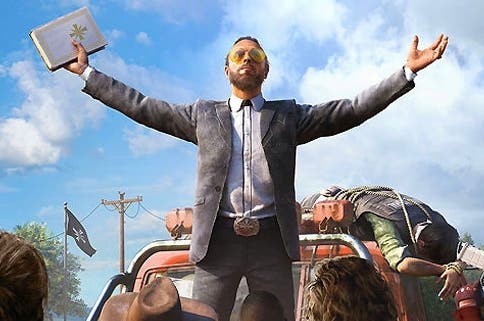 Far Cry 5 has topped the UK chart with monster sales, earning the series its biggest ever launch in the UK.
Ubisoft shifted considerably more copies during its debut week than fellow recent releases Assassin's Creed Origins and Ghost Recon Wildlands - which themselves sold well.
It's especially impressive for Far Cry 5 as it launched in March - compared to the busier November launch windows of Far Cry 3 and 4.
UK numbers company Chart-Track has plenty of other stats: Far Cry 5 is the biggest launch of 2018 so far, and the biggest launch in the 13th week of any year (beating BioShock Infinite back in 2013).
Nothing else released last week - likely a decision not to launch anything opposite Far Cry 5. The rest of the top 10 is as follows:
Far Cry 5
FIFA 18
Sea of Thieves
Mario Kart 8 Deluxe
PUBG
Call of Duty: WW2
A Way Out
Assassin's Creed Origins
Forza Motorsport 7
Grand Theft Auto 5