Fallout 4's £100 Pip-Boy Edition includes an actual Pip-Boy
UPDATE: GAME online pre-orders finally go online.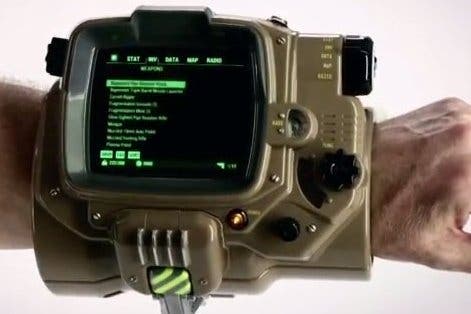 UPDATE 3rd July 13.55: After this morning's kerfuffle, you can now put your name down for a Fallout 4 Pip-Boy Edition at GAME.co.uk.
You'll need to fork out £20 for a deposit. This is new stock and it won't last long.
UPDATE 3rd July: GAME has missed its own 9am target for selling new stock of the in-demand Fallout 4 Pip-Boy Edition this morning.
Expectant customers flooded GAME's website this morning in the hope of nabbing a copy of the Pip-Boy Edition, which includes an actual wearable Pip-Boy.
But they found the ability to put down £20 to secure a pre-order was not available - despite GAME saying yesterday online pre-orders would go live at 9am.
@GAMEdigital really helpful considering everywhere stated they would be up at 9am this is why i dont buy anything from GAME

— Adam Doherty (@AdamDoh3rty) July 3, 2015
Somewhat bizarrely, GAME says you need to use a desktop PC to get a Pip-Boy Edition from GAME.co.uk, for some reason. This hasn't gone down well with some who were expecting to use a smartphone or tablet at work.
Ensure you're tuning-in from a desktop PC - You'll need to be on a PC to secure your Pip-Boy Ed. successfully via http://t.co/dwudESssra.

— GAME.co.uk (@GAMEdigital) July 3, 2015
The Fallout 4 Pip-Boy Edition is exclusive to GAME in the UK. In-shop pre-orders are currently available - but require a £40 deposit.
UPDATE 2ND JULY: GAME emailed confirming the "limited amount of new stock" for tomorrow. The retailer also said deposits will be needed to pre-order: £20 if pre-ordering online, £40 in store.
"Excitement was sky high when the game was announced at E3 and we've seen a record number of pre-orders already," commented Charlotte Knight, GAME UK retail MD. "It's great that we can now give those who missed out originally another chance to secure a copy, but stock is limited so we encourage gamers to act fast."
UPDATE 1ST JULY: The Fallout 4 Pip-Boy Edition will be back in stock at GAME this coming Friday, 3rd July.
It will be available to pre-order in store and online from 9am UK time. First come, first served.
UPDATE 16TH JUNE: The Fallout 4 Pip-Boy Edition is exclusive to GAME in the UK.
The £99.99 package includes a wearable Pip-Boy replica, among other gubbins.
ORIGINAL STORY 15/06/2015: Fallout 4's fancy pants Pip-Boy Edition includes an actual Pip-Boy.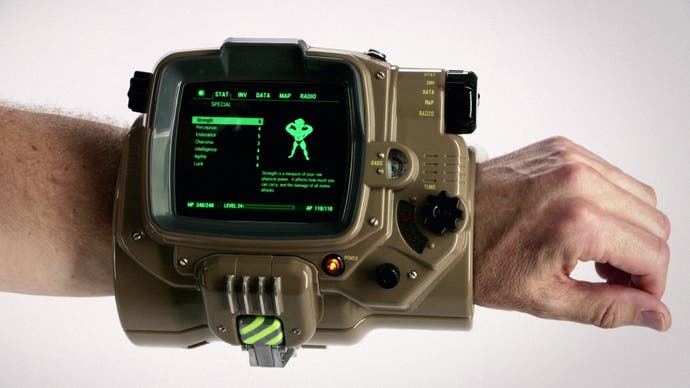 The £100 collection includes a Pip-Boy replica, stand and capsule case.
The wearable Pip-Boy has been designed to replicate the in-game model, and comes with a RobCo Industries stand, custom-printed capsule, adjustable foam cuff, and rotating knobs and lights.
You can slip your smartphone inside the Pip-Boy and, when used in conjunction with the Pip-Boy mobile app, manage your in-game inventory, perks and holotapes as if you're, well, an actual vault dweller.
Meanwhile, the Pip-Boy Edition includes a physical Pip-Boy Pocket Guide, which features illustrations and tips. There's also a Vault-Tec Perk poster. Oh, and you get the game inside Power Armour Collectible metal packaging.
Go nuts.