Evolve community manager fired after Twitter racism controversy
Voiced "an unpopular opinion" on US race row.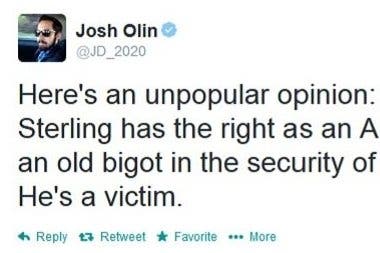 Evolve developer Turtle Rock has dismissed its community manager, Josh Olin, after he embroiled himself in a major racism row.
Olin took to Twitter this week to comment on the recent racist remarks made by billionaire basketball owner Donald Sterling, recordings of which leaked online and then blew up into a national US news story.
Owner of the Los Angeles Clippers, Sterling was apparently taped in a private location while in conversation with his then-girlfriend V. Stiviano.
Sterling can be heard telling Stiviano not to bring "black people" to NBA games, and talking of an understanding between the two that she would remove all her black friends from her Instagram account.
Olin claimed that Sterling "[had] the right as an American to be an old bigot in the security of his own home" and labelled him "a victim".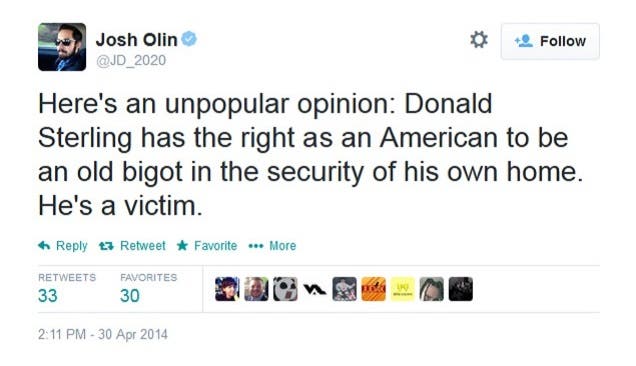 An excerpt from the Sterling tape is reproduced below:
Turtle Rock responded last night with a series of messages referring to Olin as its "former community manager" and apologising for his remarks.
The comments made by our former community manager stand in stark contrast to our values as a game development studio. <1/2>

— Turtle Rock Studios (@TurtleRock) May 1, 2014
We sincerely apologize for his remarks and in no way endorse or support those views. <2/2>

— Turtle Rock Studios (@TurtleRock) May 1, 2014
Olin later defended himself to Kotaku, and said that his message was "not in support of Sterling's actions".
"They were promoting three core tenets I believe in," he added. "1) The harm sensational media presents to society. 2) The importance and sanctity of your privacy within your own home. And 3) The right to be whatever you want to be as an American, as long as it isn't hurting anyone else. That last point not to be confused with condoning Sterling's actions, which I don't.
"It's disappointing to see that a select few in Turtle Rock and 2K Games management bought into this hysteria without even having a conversation with me - or even thoroughly reviewing the context of the tweets themselves. That said, everyone should totally still buy Evolve. The guys and gals making that game know their ***, and are making it good."
Sterling has since been banned for life from the NBA and given the maximum $2.5m fine.