Evolve alpha delayed on PS4 due to firmware issues
UPDATE: Now available, extended until 8pm Tuesday.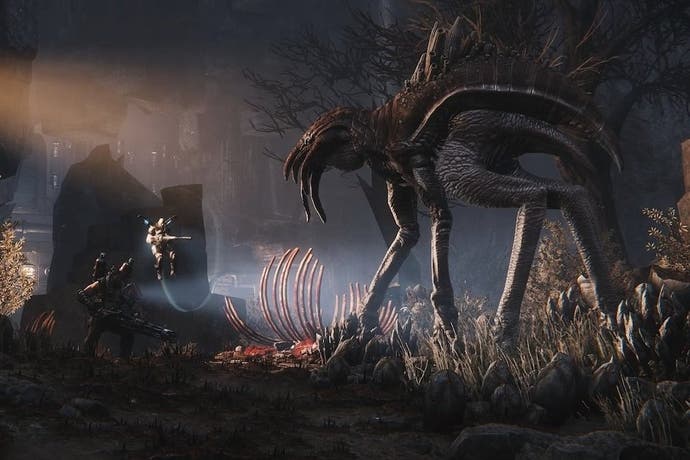 UPDATE 3/11/14 8.50am: PlayStation 4 owners can finally get access to Evolve's alpha test, delayed last week due to problems with the console's new firmware.
To make up for lost time, developer Turtle Rock has also extended the alpha until 8pm UK time tomorrow evening.
"We're happy to announce that Evolve Big Alpha is now available to play on PlayStation 4. We appreciate your patience while we worked to overcome difficulties caused by the recent PS4 firmware upgrade. Now it's time to hunt!
"As a Goliath-sized 'thank you' for being so patient, we're extending Evolve Big Alpha until Tuesday, November 4th at 12PM Pacific Time (That's 8PM UTC on Tuesday, November 4th)."
ORIGINAL STORY 31/10/14 7.30pm: Evolve's PS4 alpha was scheduled to launch today through 2nd November, but a snafu with the most recent PS4 firmware has led to it being postponed.
"Following the recent PS4 2.00 firmware update, we are experiencing difficulties with the Evolve Big Alpha on PlayStation 4. As a result, the test on PlayStation 4 is postponed," the publisher stated. "PlayStation and 2K are working together on a resolution."
Thankfully, the alpha is still playable on Xbox One and PC.
PS4 owners with an Xbox One or PC can claim a code on those platforms by filling out the Big Alpha registration form and using following character code: 05379-29749-32069.
The referral code is: EvolveBigAlpha4v1. According to 2K, those affected by the PS4 delay should receive their alternate platform codes today.
Developer Turtle Rock will update the status on this via its official Twitter account.