Elder Scrolls Online gets console release date, drops subscription
UPDATE: First console gameplay footage within and new details.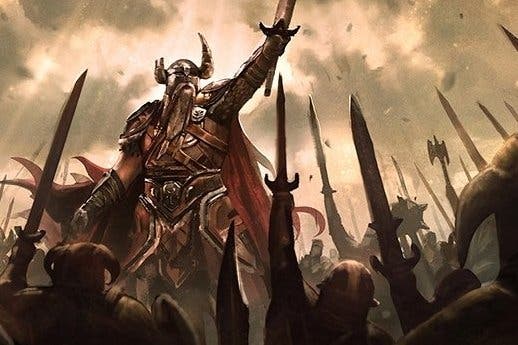 UPDATE #2 7.20PM GMT: Console gameplay footage was shown during an Elder Scrolls Online livestream this afternoon. I've ripped out the relevant gameplay for a video embedded below (the full Twitch stream is also now available). Please bear in mind it is recorded from the low quality Twitch stream and then blown up and encoded again, so it's not indicative of final game graphic quality. It's produced to give you an idea of the console game in action.
The other major thing of note is that there will be a console beta, and you should expect it "sometime in the April timeframe", said game director Matt Firor towards the end of the stream. Joining him were Bethesda chief marketeer Pete Hines and game creative director Paul Sage.
They covered a lot of topics but these stood out.
A new criminal skill tree, which allows you to steal from the get go. You can be a travelling, career criminal this way if you like.
Voice chat on console works on proximity for general chat. Walk into an area and you hear the people who are in that area talking. You can also join groups and hear its members regardless of location, ditto guild chat. And you can customise what you hear and what other people hear, opting out completely if you wish.
The new Crown Store will sell costumes, mounts, convenience items and DLC - DLC for "continuing the adventure", fleshing out areas with quests, stories, adventures.
New mounts won't behave differently but will look different. Likewise armour. There's a new Guar mount, a panther pet and many more besides. Mephala's Realm was a new area I caught, but there was a lot of new content teased in the video.
The health, stamina and magicka potions you can buy are equivalent to those you can buy from vendors in game, although they're not as powerful as the ones people make.
"Our philosophy for the Crown Store is customisation and convenience, not pay-to-win," stated Matt Firor. "There are going to be things that people are going to think are more of an advantage. You can't buy anything in the shop that you can't get in the game by playing."
Crowns can never be sold or traded nor converted to gold for selling items you buy, the team clarified. They're yours and yours only.
Elder Scrolls Online is now PEGI 18 with the Tamriel Unlimited changes. This is because of the Justice system - ie. being able to be naughty and do nasty things.
Transferring PC account to console is something that was promised and is "still part of the plan", said Pete Hines. There's no date for when that's up but if you qualify for it you'll be contacted.
Bear in mind that there's no cross-platform play and will never be. Each platform plays on its own server.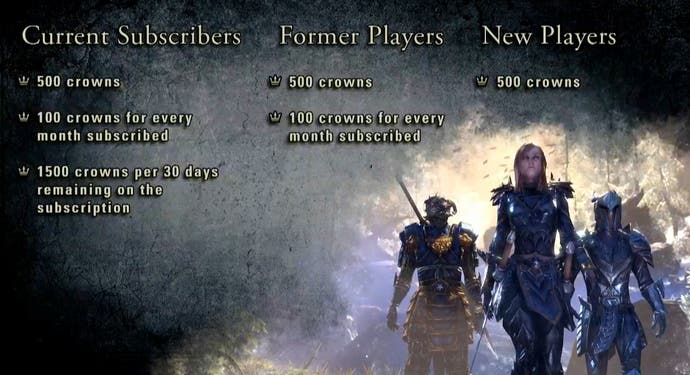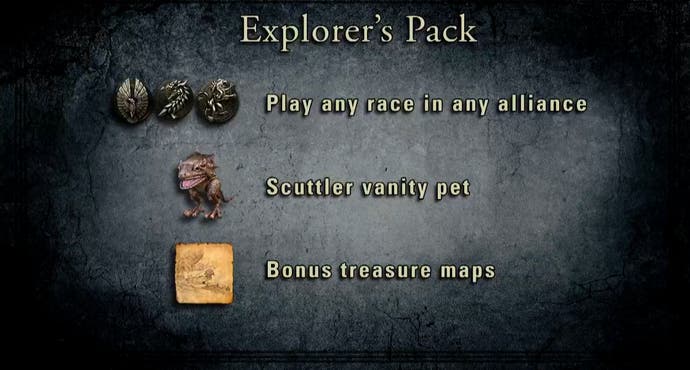 UPDATE 4.40PM GMT: The Elder Scrolls Online FAQ clarified that, yes, you will require a PlayStation Plus or Xbox Live Gold subscription (both premium services) in order to play on PS4 or Xbox One. This is an online multiplayer game only, remember.
"As with any standard multiplayer game on these platforms, an internet connection and an Xbox Live Gold or PlayStation Plus membership will be required to play," confirmed the FAQ.
Game developer Zenimax Online will be livestreaming on Twitch from 5pm GMT, and world first footage of the console version is confirmed to make an appearance. Embed below.
ORIGINAL STORY 3PM GMT: Two major announcements regarding The Elder Scrolls Online. The first, a 9th June release date for the PlayStation 4 and Xbox One versions of game (a year later than originally planned).
The second: TESO will no longer require a subscription fee to play. As with Guild Wars 2, when you buy the game you can play it in full, online, for no extra charge.
Special, "optional" downloadable content will be sold to you, but regular gameplay updates will remain free. Convenience and vanity items will be sold in a Crown Store real-money-converter shop in game.
You can still pay a monthly subscription to become an ESO Plus member, receiving exclusive in-game bonuses, a monthly allotment of crowns (for the Crown Store) and access to all DLC (while you're a member).
The console versions of Elder Scrolls Online are officially subtitled Tamriel Unlimited and include all the changes and updates made to the PC game since launch, April 2014.
PC players will have access to the Tamriel Unlimited edition before console players, on 17th March. All accounts, open or closed, will be updated, and there will be special offers to entice lapsed players back.
We've seen a glimpse of the PS4 and Xbox One version of ESO before, and it looked a lot like single-player Elder Scrolls game Skyrim.
Game director Matt Firor has been adamant that the console versions are "not just ports of the PC/Mac game", and benefit from a redesigned user interface, voice chat and full PlayStation Network and Xbox Live integration.
The Elder Scrolls Online got off to a rocky start on PC last spring, failing to really capture the hearts of either single-player Elder Scrolls fans or MMO devotees. But with the console version coming around it has another chance at convincing us, showing what difference a year of live development can make.
While you're thinking about all that, here's a lavish new CGI trailer for the game.