Dutch loot box threat forces Valve to pull CS:GO and Dota 2 item trading in the Netherlands
First blood.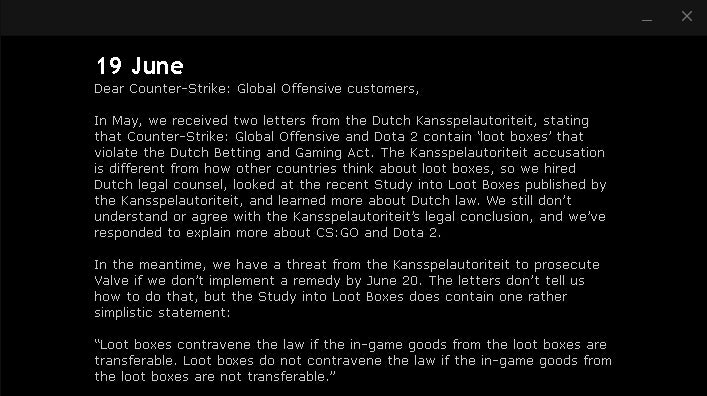 It seems the Netherlands' threat to prosecute video game companies over loot boxes has claimed its first victim: Valve.
Players of CS:GO and Dota 2 in the Netherlands were today greeted with a message from Valve saying the company had pulled item trading and Steam Marketplace transfers for both games.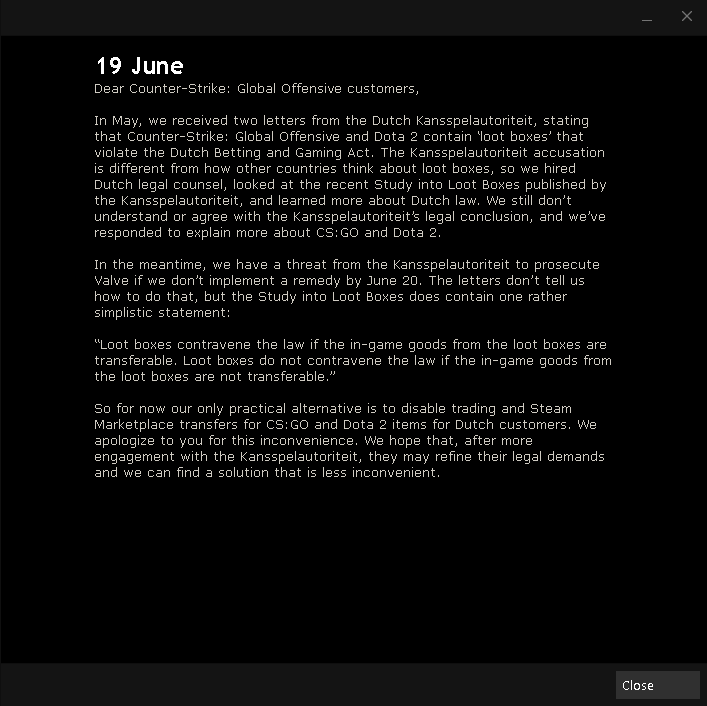 Valve said the move was in response to the Dutch threat to prosecute video game companies who failed to alter their game's design by 20th June after it found some loot boxes were gambling.
Back in April, the Dutch gaming authority said it had looked into loot boxes in 10 games and found four contravened its Betting and Gaming Act. It said the content of these loot boxes was determined by chance and, crucially, the prizes could be traded outside of the game. Therefore, the prizes had a market value.
Valve's note to Dutch Steam users reveals the company received two letters from the Dutch Gaming Authority, stating both CS:GO and Dota 2 contain loot boxes that violate the Dutch Betting and Gaming Act.
Valve, which insists it does not agree with the Gaming Authority's view of loot boxes, said it had no choice but to pull item trading and transfers as it continues to argue its case.
Yesterday, the Gaming Authority issued a press release saying it was going to check up on video games from today, 20th June, to see if their loot boxes were compliant with Dutch law.
"Concerns at the Gaming Authority are mainly about the fact that there are indications that loot boxes encourage gambling addiction," the note to press reads.
"There is consensus worldwide that gambling can not be played by minors. An adjustment that providers could make is replacing the loot boxes in their game with 'direct buy': virtual items that are known in advance can then be purchased."
While the Gaming Authority failed to name names, it's believed EA Sports' FIFA 18, Psyonix's Rocket League and PUBG Corp.'s PlayerUnknown's Battlegrounds were all singled out as failing to comply with Dutch law. However, there is no indication yet that changes to these games have been made.
The Dutch Gaming Authority said it can impose administrative fines of up to 830,000 euros (or, if that is more, 10 per cent of the company's worldwide turnover that violates the law) if it turns out game companies have not made sufficient adjustments.
"If administrative enforcement does not prove effective, the Gaming Authority can appeal to the Public Prosecution Service to prosecute criminal proceedings," it said.
The Dutch are not alone in their assessment of loot boxes. The Belgian authorities also believe them to be problematic and potentially illegal. (The UK still believes loot boxes are not gambling.) However, the Netherlands is the only country so far to impose a strict deadline on video game companies it believes are breaking the law. It'll be interesting to see whether others follow Valve's lead and make changes. Could FIFA 18 be next?