Dragon Ball FighterZ's Switch open beta starts next week
Gohan give it a try early.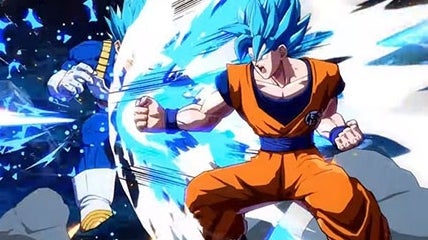 Dragon Ball FighterZ's previously announced open beta for Nintendo Switch will begin next Friday, August 10th, Bandai Namco has revealed.
Things gets underway nice and early, at 5am BST on August 10th, and continue until 8am BST on August 12th. If you're interested in getting involved, you simply need to download the open beta client - which is available on the Switch eShop now.
Bandai Namco says that four modes will be available during the beta; there's Practice Battle Tutorial mode, designed to teach the basics of combat, as well as Arena Match, Ring Match, and Ring Party Match - all offering different ways to compete against other players.
What's more, to give newcomers get a proper feel for Dragon Ball FighterZ's core fighting system - designed around building teams of three characters, then switching between them during a match - the open beta will include the game's basic roster of 23 fighters.
There's Goku (SS), Vegeta(SS), Piccolo, Gohan(Adult), Gohan(Teenager), Frieza, Ginyu, Trunks, Cell, Android 18, Gotenks, Krillin, Kid Buu, Majin Buu, Nappa, Android 16, Yamcha, Hit, Tien, Goku(SSGSS), Vegeta (SSGSS), Beerus, and Goku Black.
Dragon Ball FighterZ for Switch launches on September 28th, and is well worth a look, regardless of whether you're fan of the anime, or fighters in general. Eurogamer's fighting-expert-that-also-isn't-much-of-a-Dragon-Ball-Z-fan Wesley Yin-Poole was particularly taken with the game when he reviewed it earlier this year, awarding it an Essential badge.
According Wes, Dragon Ball FighterZ "is that rare licensed game that comes from the marriage of a developer and franchise who are perfect for each other.
"What Rocksteady did for Batman, what Rare did for James Bond and what BioWare did for Star Wars, Japanese studio Arc System Works has done for Dragon Ball. The result is an exciting, exuberant and surprisingly rewarding brawler that's one of the best fighting games I've played, and it's not just for genre enthusiasts either."