Dragon Age: Inquisition Collector's Edition is only $170
UPDATE: €160 in Europe, £130 in the UK. Still, quill and ink pot... UPDATE 15/05 3.30PM BST: The Collector's Edition is hard to track down here. GameStop Ireland has it, though, and it costs €160 - or £140 on GameStop UK.
It turns out, too, that there's no PC version available in Europe. Dragon Age executive producer Mark Darrah referenced this on Twitter.
"We are aware that there is currently no PC uber edition available in Europe. We are working on it now. Sorry this happened," he wrote.
Incidentally, all of the goodies in the Deluxe Edition of Dragon Age: Inquisition are included in the Collector's Edition. It'd be frankly an outrage - at that price - were they not.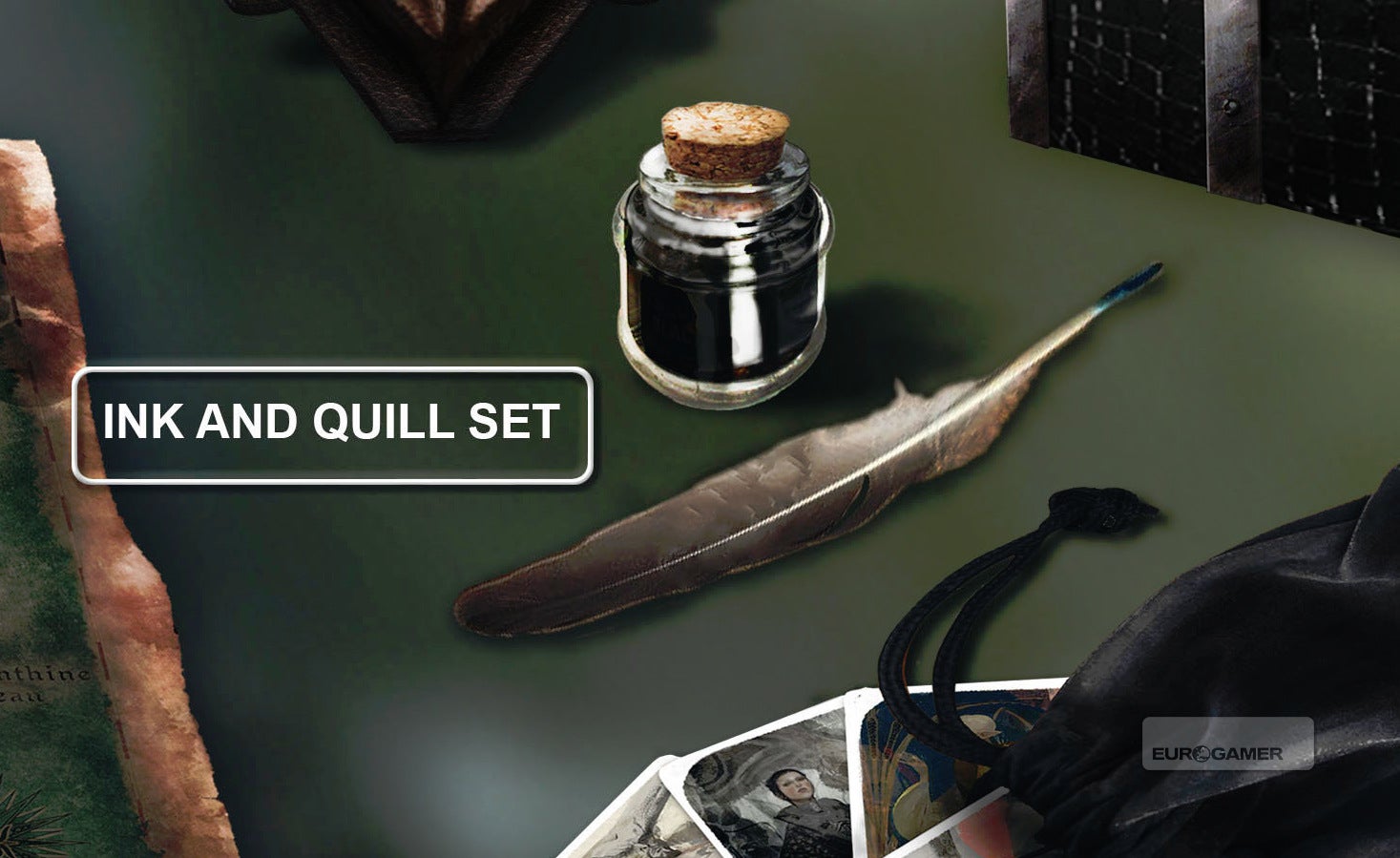 ORIGINAL STORY 13/05 5PM BST: Excited about Dragon Age: Inquisition? $170 excited? Behold the Collector's Edition, which comes in a chest and features a lockpick set, a quill and inkpot and other over-the-top trinkets.
Dragon Age executive producer Mark Darrah referred to it as the "uber edition" on Twitter, and shared links to the product on GameStop - I can't find any similar links for UK retailers. I'll update when I can. Here's the what's-inside shopping list:
Highly detailed exclusive Inquisitor Collector's Edition case produced by TriForce measures approximately 3.5" x 7.5" x 11.5"
The case is individually wrapped in faux reptile skin, has the mark of the Inquisitor stamped on top in gold foil, and the interior is fitted with and imprinted red silk.
Cloth map of Thedas drawn to scale measuring approximately 14" x 17"
72 card Major and Minor Arcana tarot card deck with custom artwork depicting mythology and mysticism from Dragon Age lore.
Inquisitor full scale six tool lock pick set
One set of four full scale map markers each approximately measuring 3.5" x 2.5" x 3"
Inquisitor's Badge
Inquisitor Badge
Quill and Inkpot
40-page Inquisitor's Journal
Orlesian Coins
Limited edition SteelBook case
Dragon Age: Inquisition is due out in Europe on 10th October. It's coming to PS4, PS3, Xbox One, Xbox 360 and, of course, PC!