Dragon Age: Inquisition release date announced
Alongside a snazzy new trailer.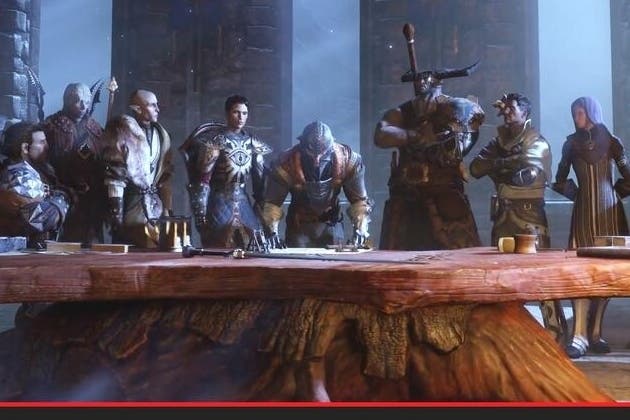 UPDATE 4PM BST: The European release date is 10th October, EA has confirmed.
EA has also revealed the extras included in the Digital Deluxe Edition of the game, which costs £60 from EA's Origin store. They are the Skyhold Throne, a throne made from dragon skulls; a horned beast mount called Red Hart Halla; and an ugly Bog Unicorn mount. You get the soundtrack, too, plus more digital content "to be announced".
There's also the Flames of the Inquisition equipment, which includes weapons and armour and mount - for all types of character. Pre-ordering nets you the Flames weapons but not, it seems, the armour and mount - that's reserved for the Digital Deluxe Edition.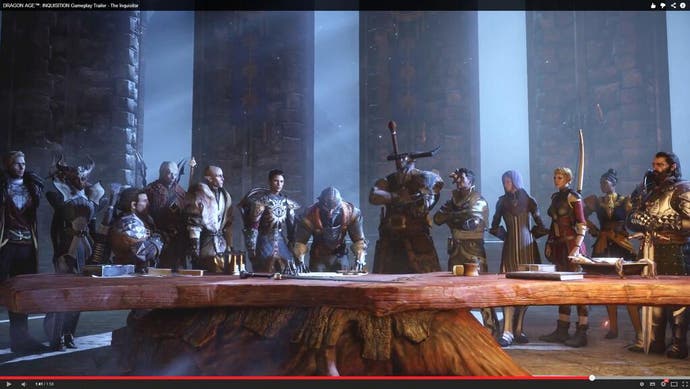 ORIGINAL STORY 2.30PM BST: BioWare's fantasy role-playing game Dragon Age: Inquisition launches on 7th October, EA has announced.
That's a Tuesday, so may just relate to the North American release. We're chasing a European release date now.
Accompanying the announcement is a new trailer focusing on protagonist Inquisitor, who is charged with saving the land of Thedas from horrible demons.
At the end of the trailer we see what looks like an image, above right, of a number of party members. Who can you spot?
Dragon Age: Inquisition is set for release on PC, PlayStation 3, PlayStation 4, Xbox 360 and Xbox One.