AMD Radeon RX Vega 64 benchmarks: performance - at a cost
A good card but too power-hungry and too hot.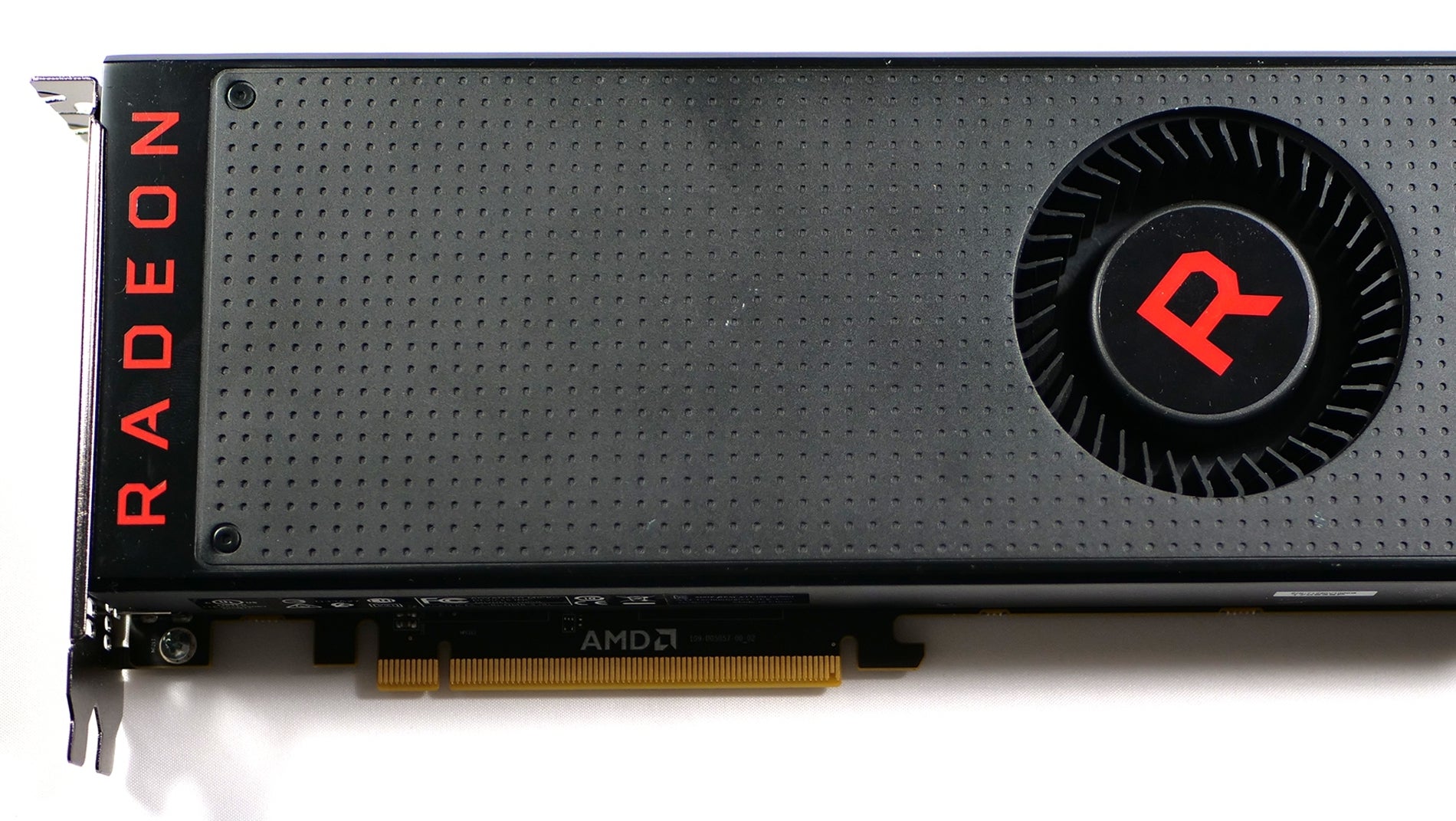 The Radeon RX Vega 64 rivalled Nvidia's high-end GeForce GTX 1080 on its launch in summer 2017, but in the past eighteen months AMD's high-end Vega card has fallen behind three new offerings from Team Green: the RTX 2080 Ti, RTX 2080 and RTX 2070. With the release of the Radeon 7 in February, the Vega 64 has officially given up its spot at the top of the Red Team's totem pole... but this high-end GPU might still be worth considering.
That's because recent price drops to around £310/$400 mean that the Vega 64 still makes a case for itself - if you can actually find one for sale at this rather exceptional price. It's an excellent 1440p performer that often has frames to spare, making it a good choice for ultra-wide 21:9 and 32:9 monitors that would overburden lesser cards. It's also the first AMD graphics card that can really grapple with 4K gaming, although once again the Radeon 7 is able to perform this role much better (albeit at a higher price).
One nice advantage to choosing high-end AMD hardware used to be that picking up a variable refresh rate monitor is much cheaper. AMD's FreeSync standard adds almost nothing to the cost of a monitor, while Nvidia's comparable G-Sync module can increase the price by 20 per cent or more. However, Nvidia's recent support for the FreeSync standard has more-or-less neutralised this advantage.
Which GPUs are worth buying? We've made our picks for the best graphics cards available, updated with the latest graphics cards as they're released. As well as an overall performance champ, we name the best value graphics card and best cheap graphics card to guide your next upgrade.
How does the Vega 64 compare to its little brother, the Vega 56? Well, the Vega 64 is normally around ten per cent more powerful than its cut-down counterpart, although this does come at a cost: greater power consumption, higher temperatures and a steeper asking price as well. However, if you're looking for the best AMD graphics card, you won't find a more powerful GPU than the Vega 64 outside of the unreleased Radeon 7.
In order to give you a good idea of in-game performance, we'll show you exactly how the Vega 64 does in nine different games at 1080p, 1440p and 4K using max settings (barring a few exceptions).
Our comparison includes the two Vega cards released so far, the Vega 56 and Vega 64, plus three competing Nvidia cards that occupy a similar price sphere: the last-generation GTX 1080 and the current-gen RTX 2060 and RTX 2070. We'll also include an AMD cross-generation benchmark towards the end of this piece, letting you see how the Vega 64 compares to its predecessors and successors. If you want to see how the Vega 64 stacks up to the Radeon 7, we have a whole article on that very topic: Vega 64 vs Radeon 7 benchmarks.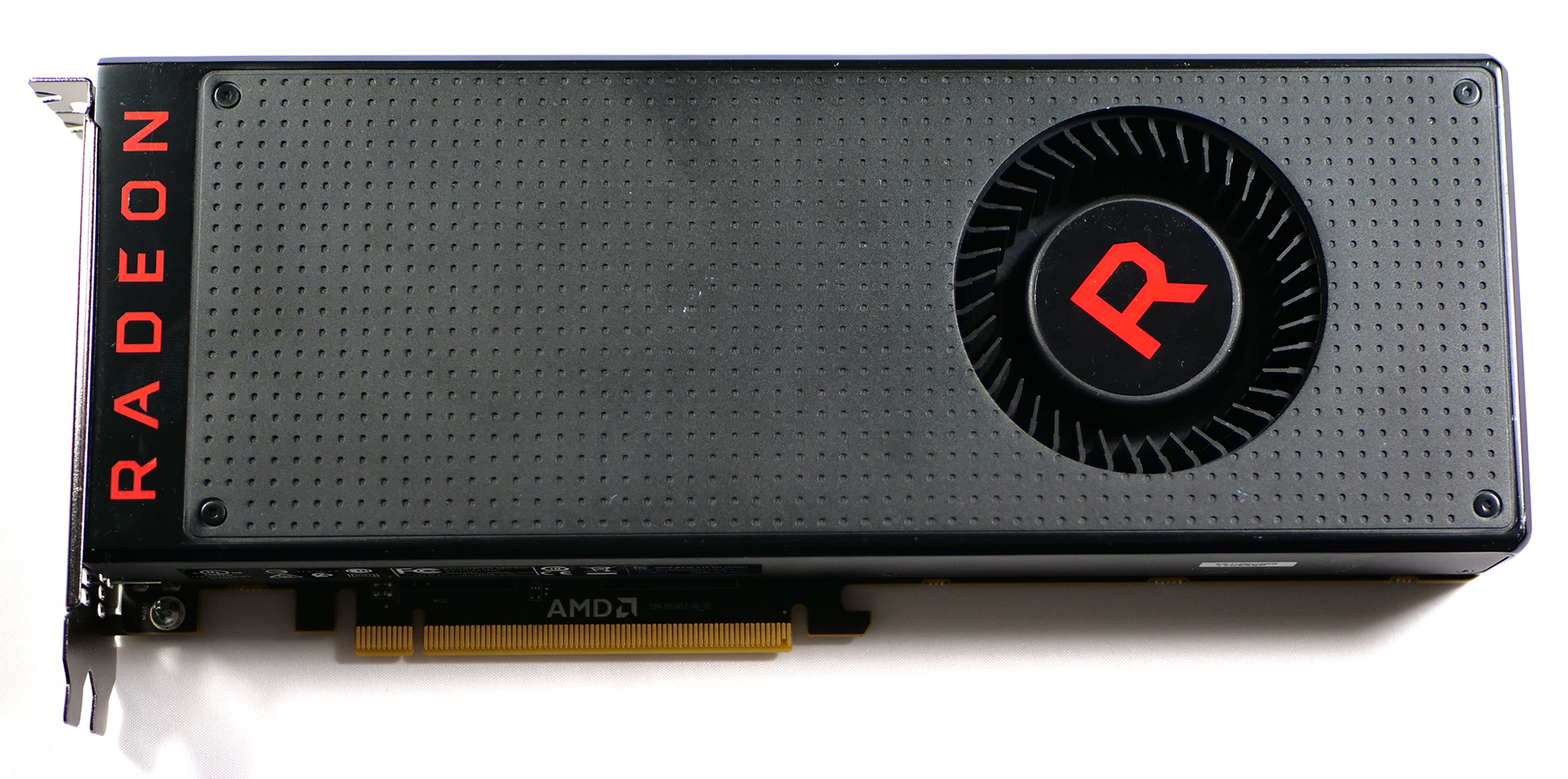 | | GPU cores | Boost clock | TFLOPS | Memory | Memory Bandwidth |
| --- | --- | --- | --- | --- | --- |
| Vega 56 | 3584 | 1471MHz | 10.5 | 8GB | 410GB/s |
| Vega 64 | 4096 | 1546MHz | 12.7 | 8GB | 484GB/s |
| GTX 1080 | 2560 | 1733MHz | 8.9 | 8GB | 320GB/s |
| RTX 2060 | 1920 | 1680MHz | 6.5 | 6GB | 336GB/s |
| RTX 2070 | 2304 | 1620MHz | 7.5 | 8GB | 448GB/s |
You'll notice that our benchmarks are a little different than you'll find on other sites. Instead of using graphs or videos with "burnt-in" metrics, our system uses a YouTube video with live frame-rates and frame-times shown below - at least while you're viewing this page on a computer rather than a mobile. Because these stats exist on our site, you can control them - you can add or remove cards from the comparison using the controls to the right of the video, skip around or play back the video at double speed and everything will just work. This makes it easy to just see the results you're interested in, so you can see how up to four cards compare at the same resolution or see how one or two cards work over multiple resolutions.
As well as the live data, there's also a handy graph slightly further down which shows you the average results over the entire run. You can mouse over different parts of the graph to see other metrics, like the worst one per cent frame-rates which give you an idea of just how bad things can get. You can also click on the barchart to see how the other cards compare in terms of percentages - possibly more easy to follow than frame-rate numbers alone. For more info on the benchmarking system, you can take a look at our full introduction to the Digital Foundry benchmarking system here.
Assassin's Creed Odyssey
We begin with Odyssey, the most recent Assassin's Creed release and the most up-to-date iteration on the AnvilNext 2.0 engine. The game is a challenge to render, with CPU bottlenecks possible at 1080p and 1440p resolutions even on our overclocked 4.7GHz Core i7-8700K test bed. It also places greater strain on Vega cards than its does GeForce ones, potentially due to higher overhead from AMD's lacklustre DX11 driver. Even at 1080p, the Vega 64 isn't quite able to achieve that 60fps ideal at the (admittedly punishing) ultra high graphical preset we're using here. Even the weakest RTX card yet launched, the RTX 2060, is able to pull 15 per cent clear of AMD's current best card in the test, to say nothing of the GTX 1080 and RTX 2070. Things are similar at 1440p, and we only see a significant change at 4K where AMD becomes more competitive.
AC Odyssey: Ultra High, TAA
Assassin's Creed Unity
Poor Vega performance isn't only found in the most recent Assassin's Creed titles either. The 2014 release, Unity, shows similar issues for AMD hardware with an 10 per cent lead for the RTX 2060 over the Vega 64. The two Vega cards also exhibit massive slowdowns in the latter stages of the test when the background is blurred, with frame-rates falling to just over 30fps even at the lowest resolution we tested at. The cards do get relatively better at higher resolutions, but Nvidia cards remain the obvious performance victors.
Assassin's Creed Unity: Ultra High, FXAA
Battlefield 1
Now the shoe's on the other foot. Battlefield 1 is a game much kinder to AMD hardware, with the Vega 64 being six per cent ahead of the GTX 1080, four per cent ahead of the RTX 2060 and just three per cent behind the RTX 2070 at 1080p. At 4K, the Vega 64 is the fastest card of the five we've included and even manages to average above 60fps - impressive stuff. Sadly, this performance isn't replicated in many other titles.
Battlefield 1: Ultra, TAA
Crysis 3
The explosive train ride that occurs early in Crysis 3 makes for a beautiful fireworks display and a challenging benchmark, even for graphics cards released five years after the game first arrived in 2013. The Vega 64 is six per cent ahead of its little brother, the Vega 64 and about level with the RTX 2060 at 1080p. However, the GTX 1080 and RTX 2070's advantage in raw horsepower allow them to pull nearly 15 per cent ahead of the better Vega card at the same resolution. These results are more or less consistent at different resolutions too.
Crysis 3: very high, SMAA T2X
Far Cry 5
The chill Far Cry 5 benchmark is a new favourite, thanks to its mellow music and relaxing scenery. The Vega 64 also turns in one of its best performances in a modern title, with 116fps at 1080p - more than enough to make use of a high refresh rate monitor. That's almost exactly the same as a GTX 1080 GPU, but a little behind the newer RTX 2070. The Vega 64 remains competitive at other resolutions, even drawing within one frame per second of the RTX 2070 at 4K. Chalk up a win for AMD here, with the results no doubt influenced by the game's implementation of the Vega rapid-packed math standard.
Ghost Recon Wildlands
Ghost Recon Wildlands is the most challenging game in our current suite, thanks to its excessively punishing ultra preset that gobbles up VRAM and polishes it off with a hearty helping of compute power. The Vega 64 just misses out on 60fps at 1080p, something that is achieved by all of the Nvidia hardware in this test. As we go up the resolution ladder, the AMD card becomes more competitive, drawing level with the RTX 2060 at 1440p and coming close to the GTX 1080 at 4K.
Ghost Recon Wildlands: Ultra, TAA
Rise of the Tomb Raider
In the first of our two Tomb Raider titles, the Vega 64 manages a solid 126fps at 1080p; that puts it ahead of the RTX 2060 but behind the GTX 1080 and RTX 2070. We again see gains at 1440p, with the better AMD card coming close to both the GTX 1080 and RTX 2060, and at 4K the Vega 64 manages to beat out the GTX 1080 and come just 1fps behind the RTX 2070. Sadly, this game's benchmark is a little less challenging than the game itself, so you may need to opt for a lower graphical preset to guarantee more than 90fps at 1440p or 50fps at 4K.
Rise of the Tomb Raider: Very High, SMAA
Shadow of the Tomb Raider
Despite Shadow of the Tomb Raider becoming one of Nvidia's most-referenced titles in the launch of the RTX series of graphics cards thanks to its support for real-time ray tracing (RT) and deep learning super sampling (DLSS), the game still plays well on AMD hardware. The Vega 64 hits 95fps at 1080p, third behind the GTX 1080 and RTX 2070, then moves into second place at 1440p and 4K.
Shadow of the Tomb Raider: Highest, TAA
The Witcher 3
The Witcher 3 is our final benchmark, as our preferred Wolfenstein 2: The New Colossus benchmark has compatibility issues with AMD hardware. Unfortunately it's not a rosy ending for the Vega 64, as all three Nvidia cards we're looking at show better performance at 1080p and 1440p - even with Nvidia's tremendously inefficient Hairworks implementation turned off. The AMD card does outpace the RTX 2060 at 4K, but it's a narrow lead for AMD's last-generation leader over Nvidia's current-generation value option.
The Witcher 3: Ultra, POST-AA, No Hairworks
Cross-generational comparison
We'll conclude with a look at how the Vega 64 and 56 compare to their predecessors in the Assassin's Creed Unity benchmark, including the RX 570 and RX 580, along with AMD's previous flagship card, the now venerable R9 Fury X. You can see that the Vega 64 is comfortably the second-best AMD graphics card to date, with a seven per cent lead over the Vega 56, a 17 per cent lead over the Fury X and a 25 per cent lead over the RX 590 at 1080p. However, the new Radeon 7 does take the overall top spot. Progress!
Assassin's Creed Unity: Ultra High, FXAA
With that, our look at the benchmarks of the Vega 64 have come to an end. We encourage you to check out our full Vega 64 review for more information on this card if you're considering it.
---
Now that you've seen the benchmarks for one card, why not check out see which PC hardware we recommend to our friends and family? Here are the DF picks for the overall best graphics cards and for the best gaming monitors on the market.
---