AMD Radeon RX 590 benchmarks: comfortable 1080p, tenable 1440p
This refresh of a refresh outperforms the RX 580 and GTX 1060.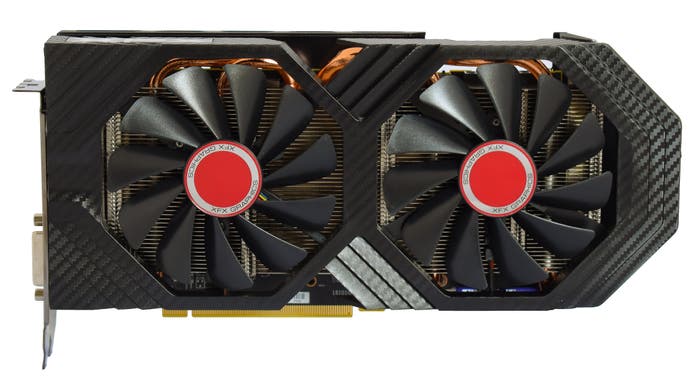 Hello and welcome to another edition of 'How good is this video card really?' In these benchmarks, we'll test the recently released AMD Radeon RX 590 against its two closest competitors: the RX 580, our current pick for the best 1080p graphics card, and the GeForce GTX 1060, the most popular graphics card in the world (according to the Steam Hardware Survey, at least). These three cards represent the best mainstream graphics cards on the market, so they should give you a good idea of the in-game performance you can expect when these cards are paired with a suitable processor and other components.
One limitation to our testing we identified in our RX 590 preview is that our RX 580 card was an unusual specimen, a Sapphire Nitro+ model that boasted a hefty boost clock speed advantage compared to AMD's (unproduced) reference design. That meant that our more ordinary RX 590 sample didn't look like a massive upgrade compared to the older card - and both cards outperformed our Founders Edition GTX 1060, which did run at stock speeds. To solve that issue, we're running all three cards at their reference clock speeds, with AMD's Wattman software used to completely eliminate the factory overclocks of our RX 580 and RX 590 samples. While these models do have better cooling solutions and better power delivery that we can't completely control for, this should at least provide a much more level playing field and ensure our benchmarks are more representative of base-level performance.
We've chosen ten games, including several recent releases, to test these cards. For each test, we'll chiefly examine game performance at 1080p and 1440p, where these cards are most likely to be used, although we have also performed 4K tests for completeness and we will mention these on occasion. Some games were tested using built-in benchmark modes included by the developers, while others were tested by running through repeatable single-player sections. We've also included one test near the end which includes results from the entire recent AMD graphics lineup, going back to the R9 Fury X, to see how the RX 590 compares to a wider range of AMD hardware.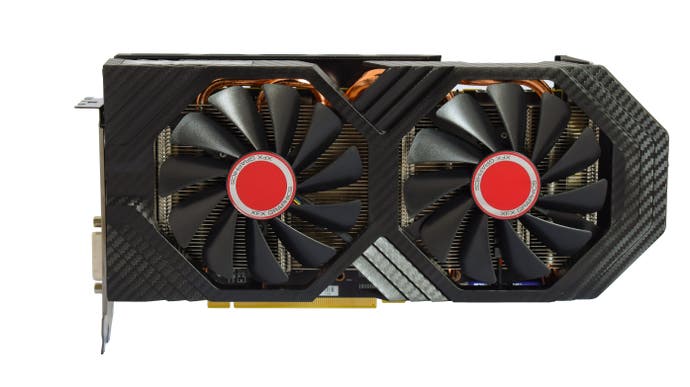 | | GPU cores | Boost clock | TFLOPS | Memory | Memory Bandwidth |
| --- | --- | --- | --- | --- | --- |
| RX 580 | 2304 | 1340MHz | 6.2 | 4GB/8GB | 256GB/s |
| RX 590 | 2304 | 1545MHz | 7.1 | 8GB | 256GB/s |
| GTX 1060 | 1152/1280 | 1708MHz | 3.9/4.4 | 3GB/6GB | 192GB/s |
In each benchmark, you can see the exact scene we tested using the embedded YouTube video. If you click the play button while on a desktop PC, you can see live frame-rate and frame-time data below the video as the scene plays out. Below the live stats, there are more traditional bar charts showing average frame-rates for each card at each resolution. You can mouse over the results to see the (often illuminating) lowest and highest one per cent and five per cent metrics too. Finally, you can click on the chart to toggle between absolute and relative (percentage-based) values. Mobile users will only see static charts and no live data, so it's worth revisiting this page on a PC or Mac if you're interested in seeing the full picture.
Assassin's Creed Unity
2014 title Assassin's Creed Unity remains a challenging target for mainstream graphics cards, thanks to its richly detailed models and effects. The Parisian rooftop scene depicted here is illustrative of the challenge felt particularly by AMD hardware, with the nominally less powerful GTX 1060 6GB's results bisecting the AMD cards. The higher clock speed of the RX 590 makes a big difference here over the RX 580, as we go from a sub-60 average to a comfortable 60-plus result. The lowest one per cent scores are also worth studying; the RX 590 dips to just under 30fps, while the GTX 1060 shows a much strong 45fps in the same metric despite having a lower average frame-rate. Put simply, the GTX 1060 delivers a more stable result in this hardware, not hitting the same highs but also not falling to the lows of the AMD cards.
AC Unity: Ultra High, FXAA
Assassin's Creed Odyssey
The 2018 AC release, Odyssey, continues its trend for favouring Nvidia hardware. Here, the GTX 1060 scores the highest average frame-rate at 40fps, while the RX 580 and RX 590 manage just 36 and 38, respectively. That changes at higher resolutions though, with the RX 590 pulling ahead at 1440p and both cards eclipsing the GTX 1060 at 4K. The GTX 1060's lower VRAM count also appears to cause a big hiccup in the 4K test, with a lowest one per cent score of just 7fps to match. However, these cards aren't likely to be used at 4K without severe reductions to graphical settings, so this is less of a big deal than it might appear.
Battlefield 1
Battlefield 1, the 2016 release of the chaotic multiplayer shooter, shows a reversal of fortunes for the RX 590. Here, the new AMD hardware runs out to a 14 per cent lead over the GTX 1060, and a solid 10 per cent ahead of the RX 580. The GTX 1060 dips far lower in response to nearby explosions in our singleplayer test, with the AMD cards delivering a more stable experience. The RX 590 retains its lead at higher resolutions too, 12 per cent faster than the RX 580 at 1440p and 10 per cent faster at 4K.
Battlefield 1: Ultra, TAA
Crysis 3
Crysis is still the watchword for PC performance metrics, so it seems obvious to include the most recent iteration of the series, 2013's Crysis 3, in our tests. Our train ride atop highly explosive material sees the RX 590 achieve an average of 87fps at 1080p, 52fps at 1440p and 24fps at 4K. It's all largely playable, although targeting the baddies smoothly becomes a challenge at 4K and we'd recommend more moderate settings for anyone looking to play through the game at this resolution. Once again, we see a delta of around 10 per cent betwen the RX 590 and its weaker challengers at 1080p and 1440p, although the GTX 1060 manages a late challenge at 4K.
Crysis 3: very high, SMAA T2X
Far Cry 5
Far Cry 5, released 2018, is well within the reach of mainstream graphics cards at 1080p, with all three cards in our comparison managing north of 60fps. The RX 590 provides more wiggle room than its peers, with an 82fps average compared to 73fps and 70fps for the RX 580 and GTX 1060. This proves more meaningful at 1440p, where the RX 590 is a shade away from a solid 60fps average but the RX 580 and GTX 1060 have to settle for around 50fps - that means you'll need to accept fewer settings downgrades to get a solid 60fps across the board. The game is also more-or-less playable at 4K/30 on the two AMD cards with minimal adjustments, although I'd personally favour a lower graphical preset than the ultra we're using here - or a straight drop to 1440p to retain the graphical niceties. The lake scene shown in the game's built-in benchmark includes a good mixture of scenic vistas, frantic gunfights and calming music, so it's well worth testing the game on your own system to see how much of a boost in performance you could expect with one of these cards (assuming you've already got a strong gaming-grade Core i5, Core i7 or Ryzen processor).
Ghost Recon Wildlands
Ghost Recon Wildlands is the most challenging benchmark in our pool for 2018, with none of the three cards we're testing proving capable of a 1080p/60 result. The RX 590 comes the closest at 42fps, but in practical terms we'd expect most users to go for the high or very high preset instead of the ultra we've opted for. 1440p is also within reach for the RX 590, although you'd need to accept a reduction to console-quality 30fps gameplay or choose an easier graphical preset.
Ghost Recon Wildlands: Ultra, TAA
Rise of the Tomb Raider
The Rise of the Tomb Raider's built-in benchmark isn't as challenging as the game itself, but its three scenes remain a good test of graphics hardware. The GTX 1060 and RX 580 are nearly level at 1080p, both managing around 80fps, while the RX 590 gives you more breathing room at 90fps. At 1440p, the RX 590 is the only card that's still above 60fps on average, with the GTX 1060 and RX 580 averaging 52 and 56fps, respectively. Console-quality 4K/30 is also possible on the RX 590, and the relatively slow pace of Tomb Raider's gameplay makes it a decent candidate assuming you have a 4K TV or monitor.
Rise of the Tomb Raider: Very High, SMAA
Shadow of the Tomb Raider
Shadow of the Tomb Raider is a better simulacrum of actual gameplay, as well as being just an overall harder test on your system. The GTX 1060 repeatedly tanked hard in our testing at 1080p, a problem avoided by the AMD cards in our test. That leaves them far ahead, with the RX 590 managing 67fps at 1080p and the RX 580 at 62fps. The game remains broadly playable at 1440p on all three graphics cards, but 4K is out of reach with average frame-rates in the teens and twenties.
Shadow of the Tomb Raider DX12: Highest, TAA
The Witcher 3
Our customary Roach-ride through the streets of Novigrad shows a considerable gap between the RX 590 and its competitors, with the new AMD card delivering a standout performance of 82fps on average. That's a solid 10 per cent ahead of the RX 580 and 20 per cent ahead of the GTX 1060; perhaps the biggest differential we've seen. However, none of the three cards manages over 60fps at 1440p, so you'll need to make the customary settings changes to get a comfortable result at higher resolutions - and whatever you do, don't turn on HairWorks!
The Witcher 3: Ultra, POST-AA, No Hairworks
Wolfenstein 2: The New Colossus
Wolfenstein 2: The New Colossus is another new addition to our benchmarks, with this comparison being the first time we've looked at performance at resolutions besides 4K. The 2018 game runs very well even on mainstream hardware, with averages of 81fps, 95fps and 104fps for the GTX 1060, RX 580 and RX 590, respectively. That means all can benefit from a screen with a higher refresh rate than the standard 60Hz, and with some settings tweaks could even manage to maximise a 120Hz or 144Hz display. At 1440p the RX 590 remains comfortably above 60fps, and at 4K you still get a playable 37fps. With a less demanding anti-aliasing setting or a lower graphical preset, 60fps at 4K is an exciting possibility for AMD's top mainstream graphics card.
Wolfenstein 2 Vulkan: Uber, TSSAA 8x
Generational comparison
Finally, we'll look at how the RX 590 compares to their AMD stablemates in the Assassin's Creed Unity benchmark. The RX 590 remains behind the R9 Fury X and the first-generation Vega cards, to say nothing of the recently released Radeon 7.
Assassin's Creed Unity: Ultra High, FXAA
That brings our benchmark review of the AMD Radeon RX 590 to a close! If you like, check out our RX 590 preview to learn more and see how these cards perform in a couple of extra titles.
---
Now that you've seen the benchmarks for one card, why not check out see which PC hardware we recommend to our friends and family? Here are the DF picks for the overall best graphics cards and for the best gaming monitors on the market.
---