Diablo-like Magic: Legends is shutting down
Cards folded.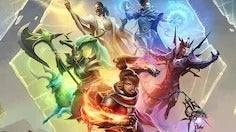 Magic: Legends, a Diablo-esque take on the world of Magic: The Gathering, will be shut down on 31st October.
All purchases made in the game's PC open beta will be refunded. Planned full launches for PlayStation, Steam and Xbox have been scrapped.
Magic: Legends was first announced in January 2020, as the next project from Neverwinter and Star Trek Online developer Cryptic. It promised an action role-playing take on the Magic universe, more commonly seen in the ubiquitous card game.
"Our vision for Magic: Legends missed the mark, but we are proud of what we achieved," Cryptic said in a blog post. "Thanks to Wizards of the Coast, we got to bring the expansive Magic: The Gathering Multiverse to a wide audience and explore new angles within the established ARPG genre. We learned several valuable lessons along the way, and we will use them to improve Cryptic's future development efforts.
"Most importantly, we'd like to thank all of the players who explored the Multiverse with us and provided feedback during the Alpha and Beta testing phases. We couldn't have gotten this far without you!"