Developer of controversial third-party Call of Duty: Warzone app forced to make changes after players used it to cheat SBMM
Bad intel.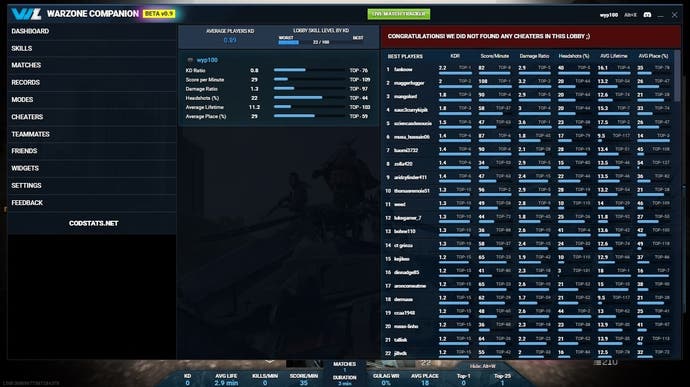 The developer of a controversial third-party Call of Duty: Warzone app that lets you see your lobby's K/D ratio before a match begins has made changes in response to online concern, Eurogamer can reveal.
Warzone Companion is an app ostensibly for displaying in-depth stats to players and for flagging potential cheaters in a lobby. But it became a hot topic within the Call of Duty community recently when it emerged it also displays the K/D ratio of all players in a lobby before a match begins. This is not something Warzone does officially.
Players were using the app to back out of unfavourable lobbies before the beginning of a match - effectively cheating Warzone's skill-based matchmaking system. Its use for stream sniping and for cheating within the competitive Call of Duty community was also been raised as a concern.
Jared, content creator for esports organisation XSETgaming, took to Twitter to say "Warzone is chalked", adding: "This app ruins the game completely and now makes a lot of things make sense."
Warzone Companion is made by a team called COD Stats and is available from their website. Dmitry Shymko, owner of the app and COD Stats, told Eurogamer a patch was issued yesterday that means players' K/D details are now shown only after the pre-match warm-up, and the average lobby K/D value will be displayed only at the end of the match. Additionally, during matches, some stats will show relative values instead of absolute values.
"What is a bit sad is most of the discussion is focused on finding ways to abuse but not about the advantages and positive sides of the app," Shymko said.
"Cheaters are one of the worst problems of Warzone and online gaming overall. We wanted to help the community and highlight those players that are having extremely high metrics in their previous matches and at the same time give an instrument for players to see that they just might die to the lucky shot. Also, such players can be spectated during the match more precisely so users can report them if they will detect real cheaters. The app also has a lot of features that will track player dynamics, every skill and will help him to get better.
"Still, by understanding the importance of discussion we decided to make a change in our app to cut the place for any kind of abuse. Information about lobby players will be shown only after the warm-up, and the average lobby K/D value will be displayed only at the end of the match and the average lobby K/D value will be displayed only at the end of the match. These changes were already implemented in our app today."
This change has a key knock-on effect: players won't be able to use Warzone Companion to flag potential cheaters before a match begins - one of its key features.
"I believe that it still can be a good idea to leave at least information about who is a potential cheater during warm-up but for now, we want to have more feedback from users and what do they think about this option," Shymko said.
Warzone Companion is also available via Overwolf, an engine for gaming apps and mods. Uri Marchand, the CEO and co-founder of Overwolf, told Eurogamer he had contacted the developers of the app to ask them to patch it.
"At Overwolf, our apps can provide information, quality of life features, visual comfort, better UI, and much more - but they will never tilt the balance of any game," Marchand told Eurogamer. "When we were made aware of COD Stats advantage of reverse boosting we immediately reached out to the development team, and they agreed to update the app today. Overwolf, and all apps on the platform, have the responsibility to safeguard fair play and this is achieved by ensuring creators build apps that are fully compliant with how the devs wanted their game to be played."
Warzone is in a somewhat troubled spot right now, with some criticising Activision over a lack of communication, ongoing cheating issues and the integration of Black Ops Cold War weapons, the latter of which has had a significant effect on the meta.
Warzone - as well as Infinity Ward's Modern Warfare and Treyarch's Black Ops Cold War - have all come under fire for the impact of skill-based matchmaking (SBMM), which has sparked a "reverse-boosting" craze - that is, deliberately dying in order to negatively impact your K/D and, in turn, end up in lower-skilled lobbies.