Call of Duty: Black Ops Cold War's DMR is so overpowered it's making Warzone "unplayable", fans say
About to burst.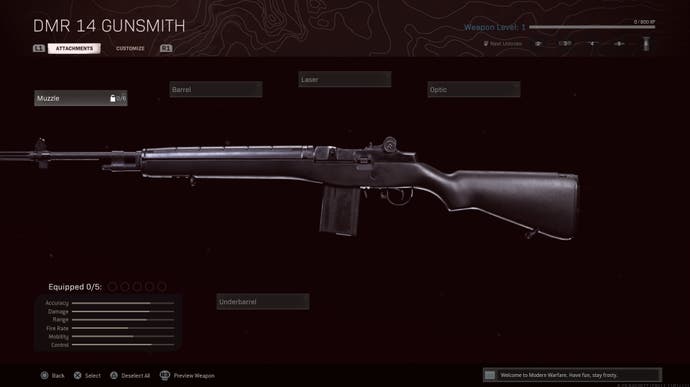 If you've been playing Call of Duty: Warzone recently, you'll no doubt have encountered - or possibly even used yourself - the controversial DMR 14.
The DMR 14, a weapon added to the battle royale as part of the integration of Treyarch's Call of Duty: Black Ops Cold War, is currently dominating the Warzone meta. Dominating is too soft a way to put it - the DMR is considered essential to success, and it's absolutely everywhere.
The DMR 14 is a semi-auto tactical rifle, with increased fire rate and minimum recoil. It's devastating at long rage, maintaining reliable damage to down enemies in a blink of an eye.
The DMR is so powerful it can wipe out a squad in a matter of seconds, just a few well-placed bursts of fire doing the kind of damage other weapons need sustained fire to achieve. The DMR excels at the kind of range you want for engagements in Warzone, too - distance enough to pick enemies off without them having the time to react.
Warzone has had weapons considered overpowered before, of course, but what the emergence of the DMR has highlighted is a new issue within the game: gun balance knocked out of kilter by the integration of weapons from an entirely different game.
Black Ops Cold War weapons are, currently, dominating the Warzone meta, which was something the community predicted would happen. Black Ops Cold War's MAC-10 SMG is seen as the best close quarters option currently in the game, with the Black Ops Cold War handgun Diamatti in Akimbo form also a popular go-to.
As you'd expect, the memes have begun. Here's a snippet:
A nerf is expected and I'm sure it will come, but there is a feeling Black Ops Cold War guns will remain dominate in the short to medium term. This is the issue Warzone now finds itself battling against. With Infinity Ward moving on from Warzone, Raven Software is current custodian. As new weapons are added to Black Ops Cold War for use in the Treyarch-built multiplayer, Raven is tasked with making them work in Warzone. In this context, weapon balance sounds like a nightmarish job. These guns are being made to work in two entirely separate engines: the one powering Black Ops Cold War, and the one powering Warzone. Perhaps it was inevitable that Season One of both games would end up causing havoc.
While we wait for a nerf, maybe pack a riot shield. Just in case.