Deus Ex: Human Revolution suit in Hitman Absolution DLC
Jensen's buttons. UPDATE: Now available on Steam, priced £3.99.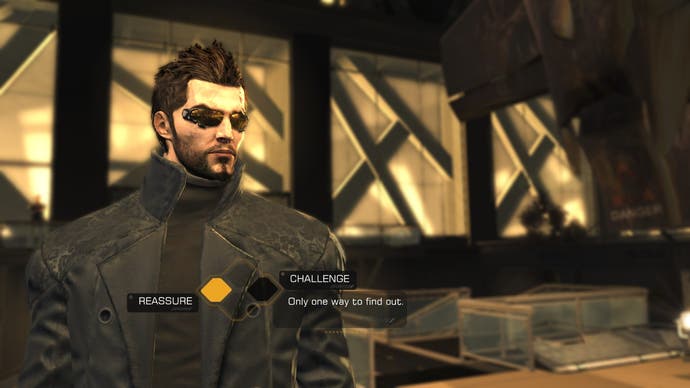 UPDATE: Hitman Absolution's costume pack is now available from Steam priced £3.99.
Three extra weapons (included in the game's Professional Edition) are also listed for download. Each costs 59p a pop.
ORIGINAL STORY: Adam Jenson's stylish Deus Ex: Human Revolution costume will appear in Hitman Absolution, according to a new report.
You'll be able to download the extra togs in a new wardrobe pack, which also features three US pre-order bonus suits.
Jenson's Deus Ex suit comes with a Deus Ex gun, Siliconera reported. Then there's the Public Enemy suit with a Bronson M1928 submachine gun, a High Roller suit with a Krugermeier 2-2 Pistol, and a High Tech suit with a Bartoli Custom Pistol.
Pork bun-munching Hong Kong adventure Sleeping Dogs, also published by Square Enix, recently featured Adam Jenson's Deus Ex suit, too, along with Agent 47's own trademark suit and red tie.