Destiny 2 Legendary Shards: How to get and spend the valuable resource
A primer on what you need to do with those elusive purple crystals.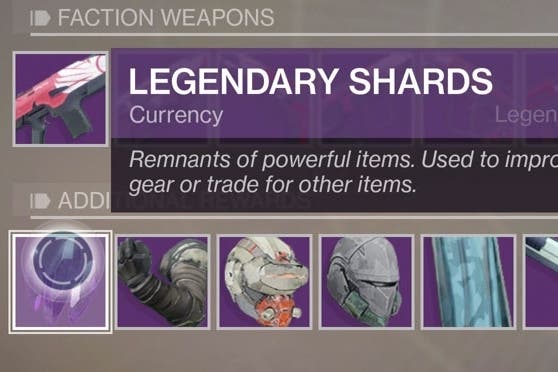 Destiny 2 Legendary Shards is one of the game's most valuable resources.
Similar to Legendary Marks, Ascendant Shards and other end-game resources from the original Destiny, it's a consumable used to buy better gear and inch you closer to the max level cap.
---
Note this page is in need of an update with the arrival of Destiny 2's second year, so be aware some content might be out of date. In the meantime, read our Destiny 2 Forsaken guide and how to reach the new Destiny 2 level cap for an overview of what's new and changed. Plus, there's the return of theThorn quest and Thorn Ornament, Wishes of Sorrow, and our trusty friend Xur, too - here's the answer to where is Xur, Xur's location and what Xur's selling this week!
---
What Legendary Shards are used for in Destiny 2
The in-game blurb for Legendary Shards is as follows: "Remnants of powerful items. Used to improve gear or trade for other items." So what does this mean in particular? Right now, we know Legendary Shards are used for two things:
Infusing weapons and armour into a higher Power level
Used as currency at Xur, the game's weekly vendor that will visit one of four planets each Friday
Purchasing Faction weapons and armour from vendors
Buying reward-increasing consumables from Zavala and Shaxx
Purchasing Engrams from Master Rahool and Xur
Part-payment for Lost Prophecy consumable upgrades from Brother Vance in the Lighthouse
Repurchasing Exotics from the Vault and mission-specific rewards from vendors
Upgrading Legendaries into Masterworks alongside Masterwork Cores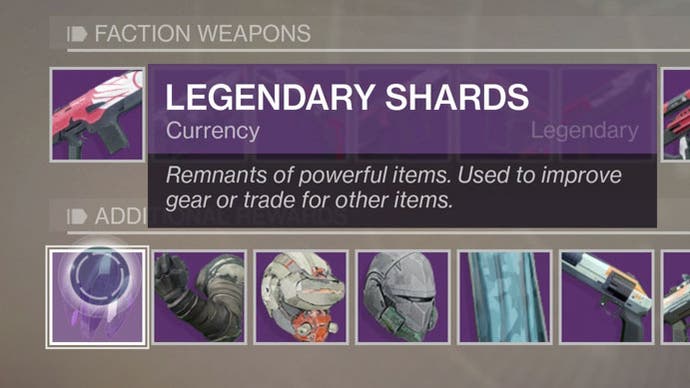 Players of the original will note this is different to Destiny 1, which had you gather Strange Coins in order to buy Xur's many wares.
Now there is a shared resource with other systems in the game, it appears buying things from Xur might require more of a choice. Do you buy that fancy looking new Exotic, or spend it on Infusing the weapons and armour you already have?
How to get Legendary Shards
As a premium item, Legendary Shards will come from end-game resources and activities, including the following:
Dismantling Legendary (3 Shards) and Exotic (5 Shards) gear and Mods
Possible drop from decrypting Faction engrams (such as those from the Crucible, EDZ, Arcology, and so on)
Completing the Nightfall (2 Shards)
---
The Season of the Deep is here alongside the Into the Depths quest. You can know go fishing too! Don't forget to keep an eye on the Lost Sector and King's Fall challenge rotation schedule!
---
When you reach the end game, Legendary Shards should come in regular supply, simply from dismantling Legendary gear. Past the 265 cap you'll only receive useful Legendary weapons from a scant few sources, meaning the rest is to infuse into (if it's a weapon you want to keep) or to dismantle.
Since Infusing is very cheap, then you won't need many Shards at hand to ensure you are always creating the gear you use. When it comes to Xur every week, the maximum you'll realistically need is around 50 - enough to cover the weapon and armour piece for your class.
If you do run low, however, then simply playing will see Legendary gear flow in from all kinds of sources. If you're stuck, then levelling up Factions with Tokens tends to be the fastest source (doing Public Events and other Patrol-based activities is ideal).
Otherwise, Legendary Shards seem to be in abundance - until the game introduces a new way to spend them.