Crash Team Racing gets new dinosaur-themed track - and microtransactions - this week
As part of Back N. Time Grand Prix event.
Crash Team Racing: Nitro-Fueled, developer Beenox's slick remake of Naughty Dog's much-loved PlayStation kart racer, is getting a brand-new dinosaur-themed track this week, as part of the freshly unveiled Back N. Time Grand Prix event. Oh, and Activision is taking the opportunity to introduce micro-transactions too.
Back N. Time is a new limited-time Grand Prix event (following on from Nitro-Fueled's recent Nitro Tour effort), and comes to Switch, PlayStation 4, and Xbox One this Friday, 2nd August at 3pm in the UK/7am PDT. It runs until 25th August.
Activision's latest offering is an all-round dino-flavoured affair, introducing new karts, skins, characters, and customisation items, plus the aforementioned new track, Prehistoric Playground. This is said to feature "Jurassic-sized flora, violent geysers bursting from the ground, caves with mysterious wall-paintings, and of course, giant dinosaurs roaming the land".
A total of 18 karts, characters, and cosmetics can be earned by completing Quick, Daily, Weekly, Themed, and Pro challenges during the Back N. Time event, with each success granting points toward the Battle-Pass-like Nitro Gauge. By progressing through each tier, players can secure goodies including the Nostalginator and Mammoth Karts, the "Dashing" Fake Crash skin, Cave Painting stickers, and the Baby T. reward character.
Nitro-Fueled's Pit Stop, meanwhile - essentially the in-game shop - will also feature new characters, karts, skins, and customisation options, including the Lava Rock Wheels, the Mad Scientist Crash skin, and baby versions of Crash and Coco as new playable characters.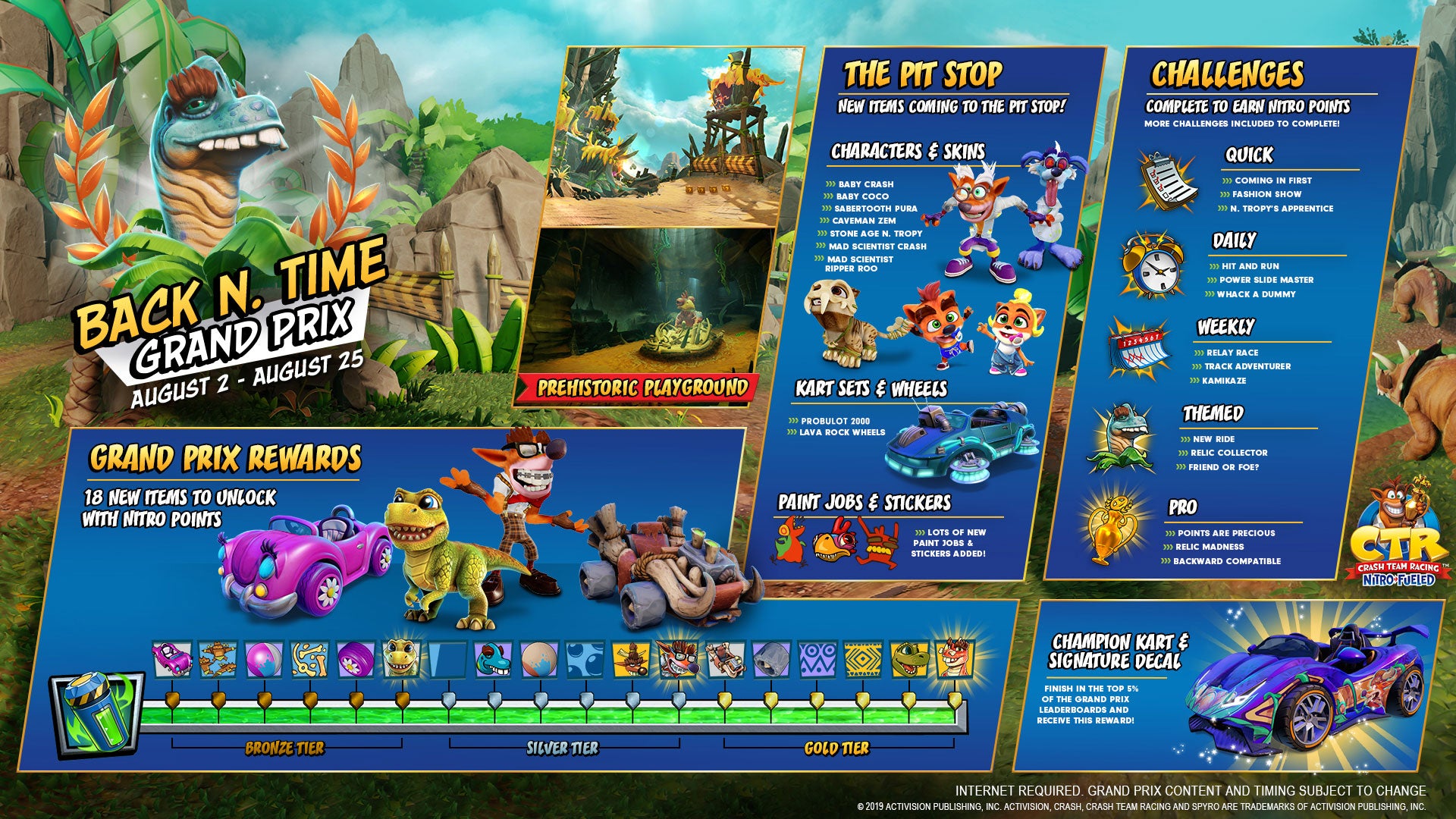 As was the case previously, all items in the Pit Stop can be unlocked using Wumpa Coins, earned by playing through Crash Team Racing's various modes. However, Activision has also elected to introduce new Wumpa Coin bundles that can, you guessed it, be purchased using real money. Quite how much these bundles will cost, or indeed, whether current Pit Stop prices and Wumpa Coin drop rates will survive unscathed, remains to be seen.
Full details on the imminent Back N. Time event can be found in Activision's announcement post. And if you'd like to relive the time that Eurogamer's Chris Tapsell decided to award Crash Team Racing: Nitro-Fueled a coveted Essential award, and besmirch the good name of Mario Kart in the process, well then you can do that too.