Beenox to gift Crash Team Racing Nitro-Fueled players in-game currency alongside PS4 save data corruption fix
MOT.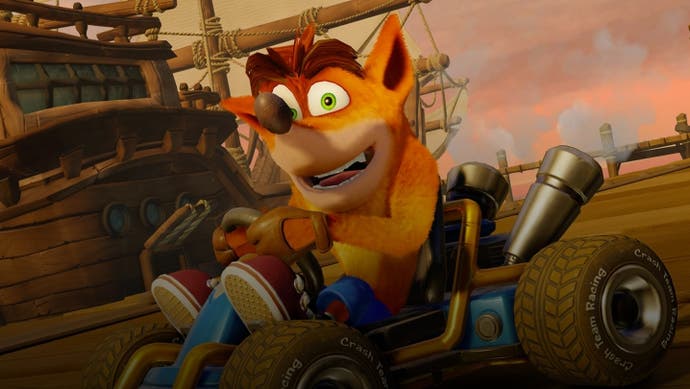 Beenox has revealed a big update coming to Crash Team Racing Nitro-Fueled that, among other things, fixes a troublesome save data corruption issue affecting the PlayStation 4 version.
Currently, there's a chance the game's PS4 save data file will corrupt if the data for race ghosts in Time Trials becomes too large. This, Beenox said in a blog post, affects players who complete many Time Trial races.
This issue will be addressed by the patch, which goes live 3rd July. In the meantime, Beenox recommends PS4 players avoid playing Time Trials "as a preventative measure", and insisted the issue shouldn't occur on Nintendo Switch and Xbox One. Alternatively, PS4 players can backup save data on an external storage device or backup save data to the cloud as an extra precaution.
As a "thank you for your patience," Beenox will grant a one-time 2500 Wumpa Coin gift to all players on all platforms who play Crash Team Racing Nitro-Fueled while connected to the internet starting this weekend to 4th July. To get the bonus, complete a race while connected to the internet, then access the Pit Stop.
Elsewhere, the Nitro Tour Grand Prix kicks off next week. This lets you earn Nitro Points and unlock customisation gubbins as well as the character Tawna by completing challenges. There's a brand new track for local arcade and online modes, called Twilight Tour.
Also coming is the addition of online leaderboards, new bits and bobs for the Pit Stop, including karts and characters, podium animations for online matches, user interface improvements, and an "adjustment" to the Wumpa Coin earn rate, although Beenox didn't explain what the adjustment is, exactly. We do know additional information on the earn rate will be added to the end-of-race report, so you'll know how you got to your number.
Our Chris Tapsell penned Eurogamer's Crash Team Racing Nitro-Fueled review, and awarded it an Essential. "Crash Team Racing Nitro-Fueled is a gold-standard remaster," he wrote, "capturing the loveably janky, off-brand spirit of classic CTR - and then some."