Crash Team Racing Nitro-Fueled's spooky seasonal grand prix event starts tomorrow
New track, karts, racers, and more.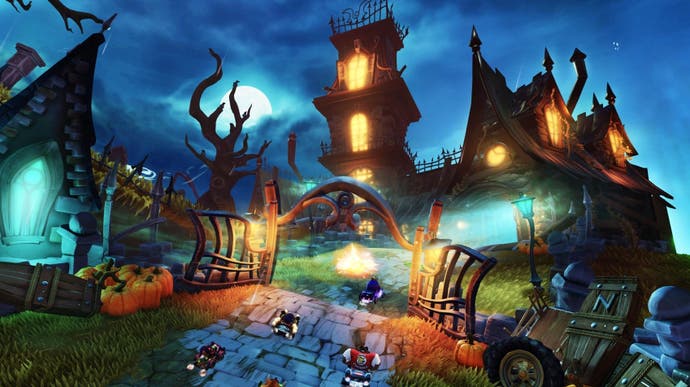 Crash Team Racing Nitro-Fueled is getting in on the spooky seasonal action that October inevitably brings. From tomorrow, 4th October, everything's going a putrid shade of Halloween, courtesy of the new Spooky Grand Prix limited-time event.
The season's biggest addition is undoubtedly Nina's Nightmare, a Halloween-themed track that winds its way through misty marshes, eerie gardens, and the shadowy corridors of a haunted mansion. "Keep your head in twisted hallways under the foreboding eyes of ancestors long since passed," Activision ominously intones, "Then, confront the most terrifying sight of all - a beastly spider-pumpkin hellbent on stomping you into the ground!"
Nitro-Fueled's Spooky Grand Prix, which runs until 3rd November, also brings three new tiers of Nitro Gauge rewards to be earned by completing challenges and accruing Nitro Points. 18 items can be unlocked in total - including the new Nautilus and Phantom karts and playable character Nina Cortex - and there's a special new challenge specifically for the season.
Known as Ghost Hunt, this spectral endeavour tasks players with smashing crates to release spooks during races, then catching them to claim their rewards. It's also possible to earn the Champion Kart and seasonal Signature Decal by placing within the top 5% of the newly refreshed leaderboards by the time the event comes to a close.
Other Halloween-themed racers, karts, wheels, paint jobs, stickers, and decals will be made available through the paid Pit Stop store.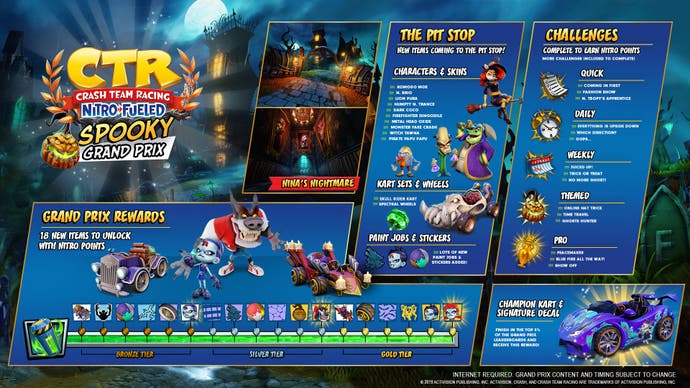 Activision notes that the Spooky Grand Prix update will also include a number of more general tweaks and additions. It brings the new Lost Cup, for instance - incorporating the Oxide Station, Clockwork Wumpa, Twilight Tour, and Prehistoric Playground tracks - alongside a new Drift driving style and the ability to select driving styles regardless of the character you choose to use. More details for the curious can be found in Activision's latest blog post.