Capcom details Monster Hunter World: Iceborne's massive new biome, new creatures, more
Says expansion "will rival" Monster Hunter World in terms of content.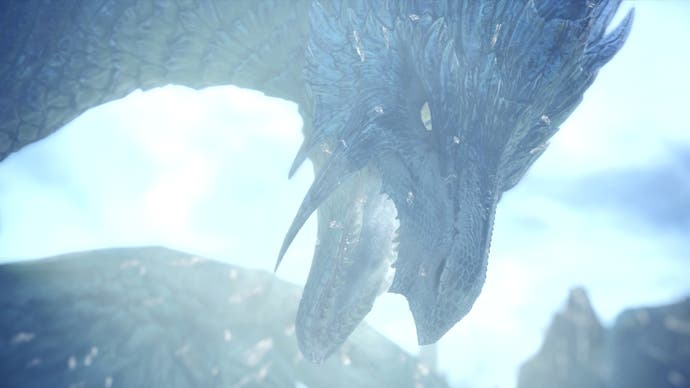 Following on from the gameplay trailer reveal of Monster Hunter World expansion Iceborne, Capcom has shared a few more details on what players can expect to see when the paid update hits PS4 and Xbox One on 6th September.
As previously announced, Iceborne, which requires the Monster Hunter World base game to play, will introduce a brand-new story - picking up after the ending of the main game - as well as new monsters, and a new high-level rank. The latter, one step above High Rank, will be known as Master Rank, and is analogous to the G Rank seen in previous Monster Hunter games.
In many ways, though, the star of the show in Iceborne will be its new biome, known as Hoarfrost Reach - a snowy, extremely cold area that distinguishes itself from the base game both visually and in terms of its new gameplay elements. The extreme cold will, for instance, decrease hunters' stamina, making it much harder to battle the area's formidable creatures. Thankfully, effects of the cold can be countered (in much the same way as it could in earlier Monster Hunter games) by drinking Hot Drinks.
These can be created using Hot Peppers, and players might also discover hot springs around Hoarfrost Reach, which have similar effects to Hot Drinks. As an added bonus, hot springs are a good place to encounter monkeys, if you like that sort of thing.
Indeed, the new area (the largest region in Monster Hunter World so far, says Capcom, and one that will steadily open out as the story progresses) features a whole new ecosystem of animals, ranging from smaller critters to mighty beasts. On the diminutive end of the spectrum, there are familiar animals such as the Popo, and players will also encounter newcomers, including dung-beetle-like insects known as Rime Beetles.
It's the big monsters that most hunters will be curious about, however, and Capcom has now revealed a handful of the behemoths that Iceborne will bring. New large creatures include Banbaro, a brute wyvern, which appears early in the expansion. Mostly, it favours straightforward attacks, charging at hunters with its massive horns, but is notable for its ability to pick up whatever is in its path. Your strategies against it will differ, for instance, depending on whether it hoists a boulder in the air, or a tree - with the latter increasing its width of attack.
Also new in Iceborne is the Beotodus, a large carnivorous monster that likes to hide in deep snow, moving around with its body half-submerged, waiting to pounce on unsuspecting hunters. Capcom notes that the Beotodus' territory overlaps with that of the Banbaro, so you can expect to see tussles between the pair on a regular basis.
Rounding out the new monsters revealed so far is the Velkhana, Iceborne's flagship creature and a new type of Elder Dragon equipped with ice attacks.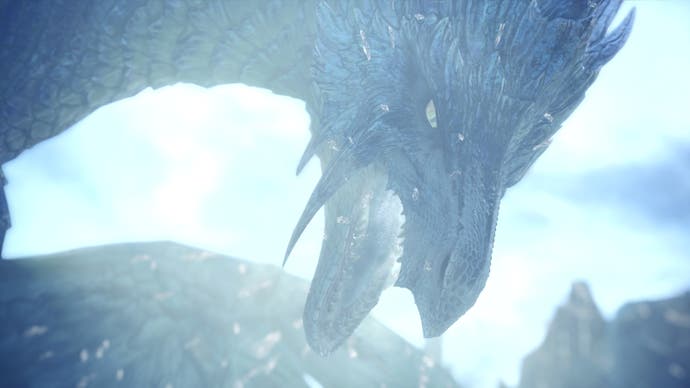 As for returning creatures, many (including me) will likely be thrilled to see the fan favourite bat-cat-lizard Nargacuga making its World debut. The beast, which first appeared in 2008's Monster Hunter Freedom Unite, will appear around the midpoint of Iceborne - and it won't be a pushover either, says Capcom, thanks to its shrewd attacks and swift fighting style, now coupled with a range of new combat tricks.
And speaking of new combat tricks, Iceborne will also expand players' movesets in a variety of ways. There is, for instance, a "new and improved" version of the Slinger, which can now be used with a weapon drawn, unlike in the main game. It's also equipped with a new feature, known as the Clutch Claw, enabling players to grapple onto monsters. Once attached, players can unleash new attacks, such as one which can push a large monster backward, effectively enabling them to steer a creature in a particular direction - toward traps, for instance.
And that's pretty much where Capcom's Iceborne reveal ended, although the publisher did share word on the various ways in which players will be able to experience the expansion. For instance, existing owners of the base game, whether digital or physical, can purchase a digital version of Iceborne to play. It's got a hefty price tag, however, weighing in at at $39.99 USD (around £30) - but Capcom does insist that the "volume of gameplay content in Iceborne will rival that of Monster Hunter: World, with even more quests to face this time around".
Additionally, there's a Digital Deluxe version of Iceborne for $49.99 (around £38), which adds a number of cosmetic DLC items: the Silver Knight Layered Armour Set, three gestures, two sticker sets, one face paint, one hairstyle, and one room decor. The cosmetics will also be available to purchase separately in the Monster Hunter World: Iceborne Deluxe Kit.

For those that prefer physical versions of their games, Capcom is releasing Monster Hunter World: Iceborne Master Edition, which bundles together the core game and expansion for $59.99 USD (around £46) on Xbox One and PS4. There's also the US-only Iceborne Master Edition Deluxe for $79.99 (around £61), which slings in the Iceborne Deluxe Kit too. Those that pre-order either edition will get the Yukumo Layered Armour Set.
Capcom says to expect more details on Monster Hunter World's Iceborne expansion in the coming months, as its console release on 6th September grows closer. The PC version, in case you missed the announcement, is scheduled to arrive later, some time "this winter".