Call of Duty sales "aren't down, they're just different"
Infinity Ward producer on the future of Modern Warfare.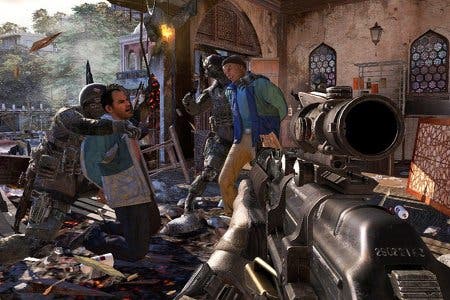 Recent data that showed Call of Duty: Modern Warfare 3 sales are markedly slower than Black Ops at equivalent times in their respective life cycles doesn't tell the whole story, according to the game's executive producer.
Infinity Ward's Mark Rubin told Eurogamer that the way people are buying Call of Duty is changing. He argued that Modern Warfare 3 has a shorter tail than its predecessors because sales of new COD launches are now more front-loaded than ever.
"What we're seeing is bigger and bigger spikes earlier on," he explained.
"Sales aren't less, they're more, but they're just front-loaded. People are getting more and more excited about the launch and more aware of when it comes out. Pre-orders are crazy, through the roof. Every time we come out with a game it breaks the record of the previous game."
He's not wrong - Modern Warfare 3 moved a staggering 6.5 million copies on launch day in the UK and US alone.
"Sales aren't dwindling at all, they're just appearing front-loaded towards the launch, rather than spread out as they were in the past," he added. "They aren't down, they're just different."
When quizzed on whether the Modern Warfare series still has mileage left in it, or whether it's time to move on to a new strain of Call of Duty, Rubin replied that Infinity Ward has plenty of ideas left in the bank.
"What we did was we viewed [Modern Warfare] as an arc. So it's a trilogy in a sense but it's an arc with a longer story," he explained.
"Whether we do another Modern Warfare [next] or something else undetermined I can't tell you, but I think the Modern Warfare environment is ripe for more stuff, whether it's backstory on the stories that we've already done or continuations of some of those stories.
"There's a tonne of ripe storytelling there. I know a lot of people have pointed to things like their favourite characters like Ghost and Soap, and getting background on those guys, so there are definite areas for us to explore in that field."
As revealed earlier today, a new DLC Collection for Infinity Ward's latest arrives on Xbox 360 from 22nd May. The next main entry in the Call of Duty series, Treyarch-developed Black Ops 2, is due out this November.